BUILDING AN EFFECTIVE ADVERTISING STRATEGY WITH DIGIFY
On the 24th of June, the Johannesburg Business School Centre for Entrepreneurship (JBSCE) in conjunction with Digify hosted a webinar on how to build an effective advertising strategy. During the webinar Digify illustrated advertising strategies and plans that can be used by Small Medium and Micro Enterprises (SMMEs) to effectively advertise their products and services. The webinar was suitable for SMMEs who were ready to advertise their goods and services but lacked a strategy and plan to effectively engage their targeted customers. The webinar primarily focused on how to define advertising goals and objectives, best ways to reach target audience at the right time and place, and essential skills to measure an advertisement campaign.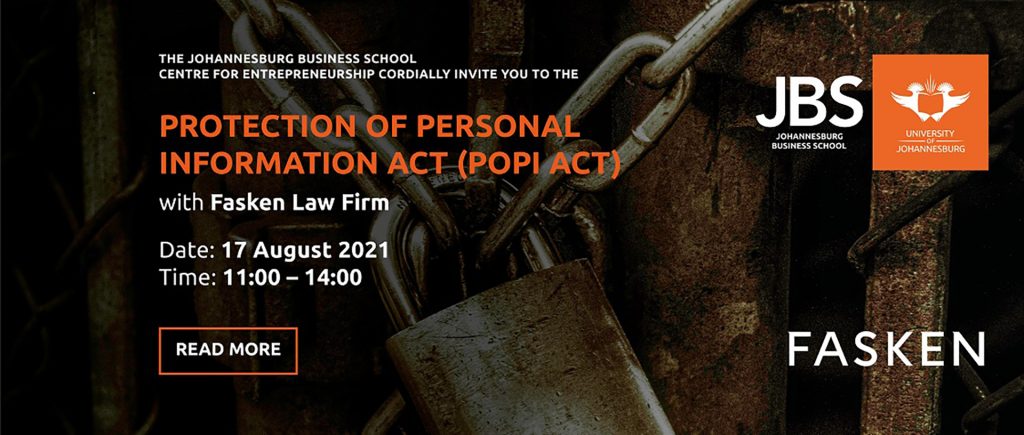 The coming into effect of the Protection of Personal Information Act, 4 of 2013 (POPI) on 1st of July 2021 introduced various changes to how information is shared. As an SMME, it is important to understand what is legally allowed and prohibited by the POPI Act. The Johannesburg Business School Centre for Entrepreneurship (JBSCE) in conjunction with Fasken Law on 17 August hosted a POPI Act webinar session. In this session, Fasken Law discussed in detail all the requirements for SMMEs to comply with the POPI Act.
Previous Conferences
2014 Conference Theme: Promoting Township Business Competitiveness: Co-existence of Immigrant, Big and Small Township Enterprises.
Click here to view the 2014 Presentation
2013 Conference Theme: Turning Tangible and Intangible Assets/ Resources in Townships into Business Opportunities.
Click here to view the 2013 Presentation
2012 Conference Theme: Transforming Townships into Economic Power Houses
Click here to view the 2012 Presentation
2010 Conference Theme: Transforming Black Townships into Economic Powerhouses
Click here to view the 2010 Presentation
To find out more about the Soweto Annual Conference and how to get involved, contact us.