Registration dates
Returning/continuing students' commences on 16 January 2023 until 10 February 2023(only online, off-campus registration will be allowed).

Access cards for senior students will be automatically activated after registration.

First-year undergraduate students registration commences on 20 January 2023 and closes on 10 February 2023(only online, off-campus registration will be allowed).

First-Year students only need to come onto campus to collect their student cards. Students can collect their student card at any campus during the registration period.
To gain access to campus, you will need your printed proof of registration and an ID or driver's license.

If you are under the age of 18 on the day you register, you and your parent/guardian should sign the Academic Registration Rules Regulations and Indemnity and send the completed form to the Student Enrolment Centre at biographics@uj.ac.za before you will be able to register. Please follow this link to access the form: DOWNLOAD NOW
Vaccination Information for students
Suspension of COVID-19 Mandatory Vaccination measures.
The UJ Council approved be relaxing of some of our Mandatory Vaccination Policy stipulations and Implementation Protocols.
Should there be an increase in the number of COVID-19 infections and in the resultant risk to our staff, students, and third parties, the University may be required to reinstate the suspended measures.
Registration Information Letters
Steps to register online: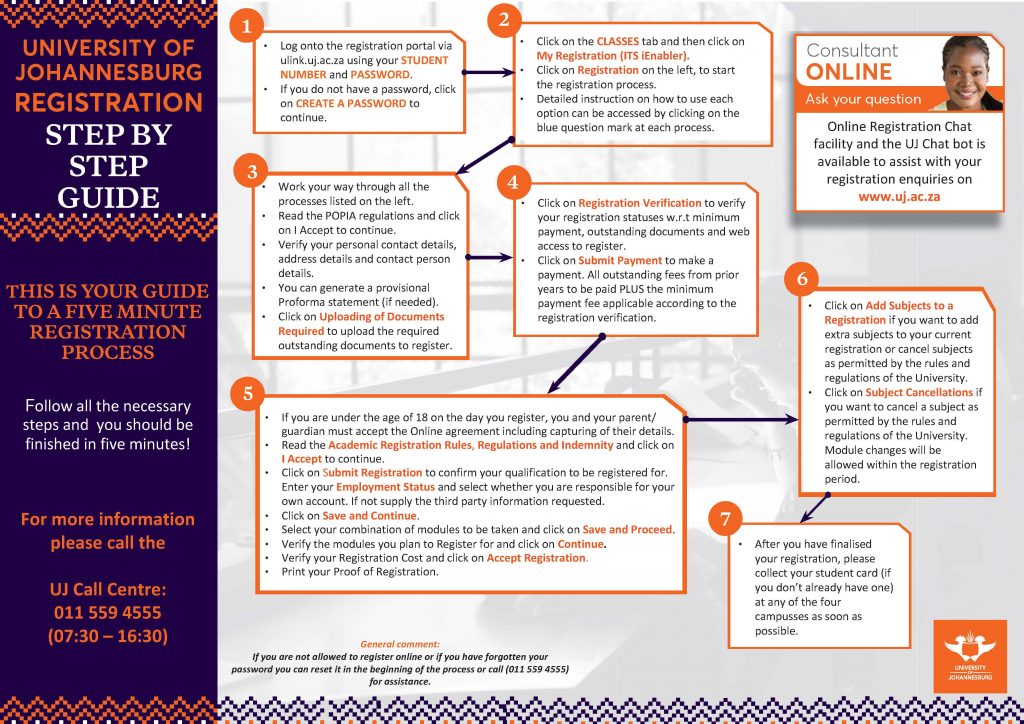 Registration information guide: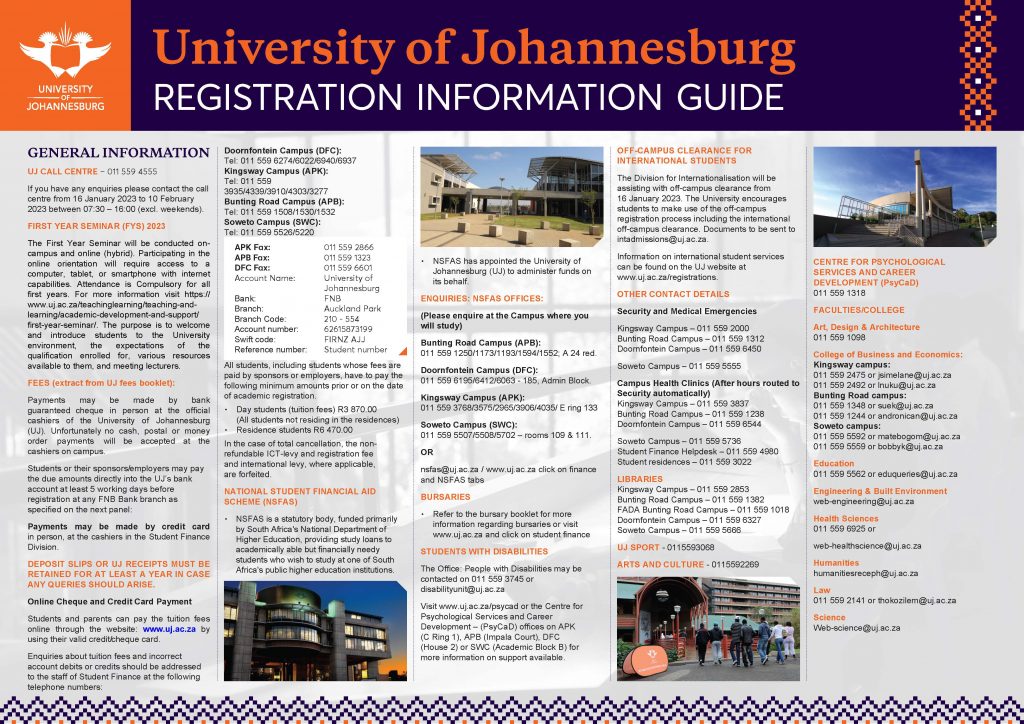 Kindly complete one of the registration surveys below to assist us in enhancing the UJ student registration.
Click HERE to complete the online, off-campus registration survey
Click HERE to complete the on-campus registration survey
Library fines and payment:
Students can pay library fines online. However we can only lift blocks placed on students three days after payment as we need to receive these funds before the block is lifted.
Please follow this link for banking details to pay your fine into the University account: LIBRARY FINES BANKING DETAILS
FACULTY / COLLEGE CONTACT DETAILS