Registration dates
Registration has been extended until Sunday, 5 March 2023 for admitted students. This arrangement is subject to space availability for new enrolments.
Vaccination Information for students
Suspension of COVID-19 Mandatory Vaccination measures.
The UJ Council approved be relaxing of some of our Mandatory Vaccination Policy stipulations and Implementation Protocols.
Should there be an increase in the number of COVID-19 infections and in the resultant risk to our staff, students, and third parties, the University may be required to reinstate the suspended measures.
Registration Information Letters
To all NSFAS First Time Applicants,
The University of Johannesburg would like to encourage students who applied for NSFAS to check their funding status on the myNSFAS portal https://my.nsfas.org.za/. The University continuously engages NSFAS on timelines for the release of funding outcomes. To date, we have not received funding outcome for first years and continuing students.
Due to academic space constraints that cannot be guaranteed, the University would like to urge students who can raise the minimum tuition fee payment of R3870,00 to pay in order to proceed with academic registration. The registration fee will be refunded to the students once NSFAS funding is confirmed. Students who cannot raise the minimum are encouraged to apply for the UJ SRC Trust Fund that will assist with the registration fee https://apps.uj.ac.za/StudentLifeAndGovernance.
Please do not hesitate to contact us on studentaccounts@uj.ac.za
Regards,
UJ Student Finance
20 January 2023
Fraudulent activities outside and Inside University premises.
We alert all our students of the scavengers' activities that are happening within and outside our campuses. These activities are happening in the form of scams and fraud.
It has come to our attention that there are individuals who pose as university employees or student representatives in an attempt to defraud our students. These individuals will promise to assist students with academic space, bursaries, student accommodation and or registration assistance in an exchange of cash. Once they are given the money, they will either vanish without trace or use fraudulent credit cards in carrying out their promises, the credit card transaction will at the end be reversed leaving the students with enormous debt.
The University of Johannesburg is a cashless environment, and no amount of money must be given to any of our staff members or students representatives to get any assistance. Students and parents are urged to always be alert and to only interact with the university using the official platforms. We also urge them to report any suspicious activities to our fraud line.
Tel: 0800 872 846
Email: uj@tip-offs.com
Website: www.tip-offs.com
Steps to register online: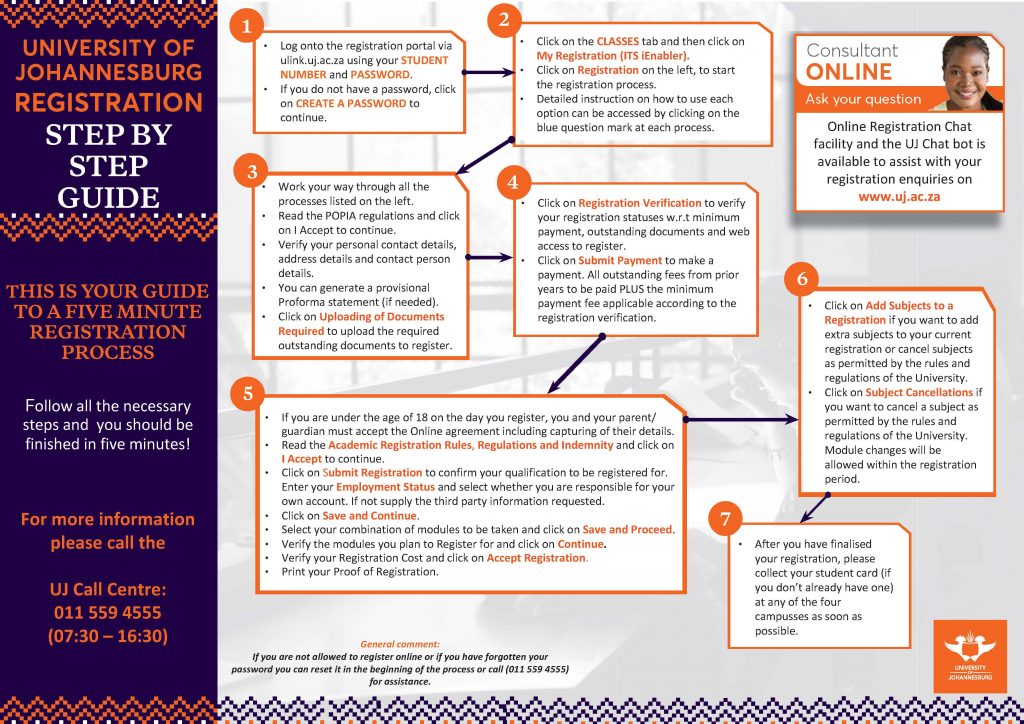 Registration information guide: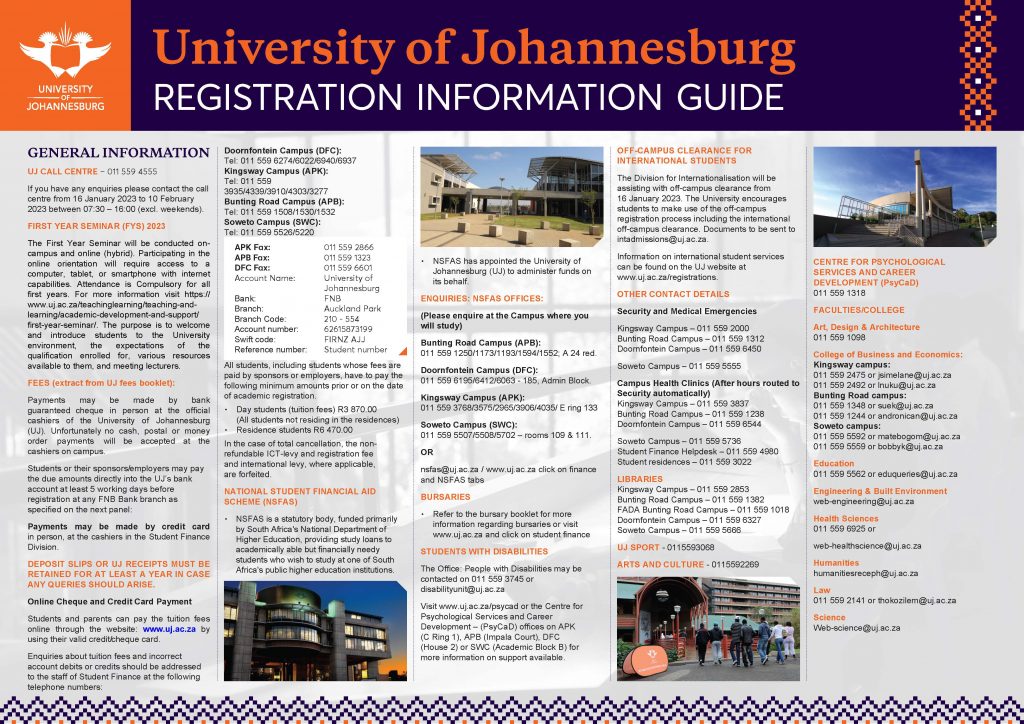 Library fines and payment:
Students can pay library fines online. However we can only lift blocks placed on students three days after payment as we need to receive these funds before the block is lifted.
Please follow this link for banking details to pay your fine into the University account: LIBRARY FINES BANKING DETAILS
FACULTY / COLLEGE CONTACT DETAILS