University of Johannesburg Governance
The University of Johannesburg (UJ) is fortunate to have widely respected leaders supporting its move forward to the next level of excellence in teaching, research and community outreach.
In leading the University, Prof Letlhokwa Mpedi, Vice-Chancellor and Principal, is supported by a senior executive management team that comprises the Deputy Vice-Chancellor Academic, the Deputy Vice Chancellor Research and Internationalisation, the Registrar, the Chief Financial Officer, the Chief Operating Officer, the Chief People Officer, the General Counsel and the Senior Executive Director in the Vice-Chancellor's Office. Together with the Executive Deans and Executive Directors, these leaders constitute a team that stewards UJ on its mission and towards realizing its vision.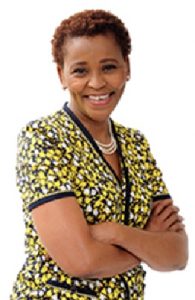 Council Chairperson: Ms Xoliswa Kakana
Xoliswa Kakana recently founded Spiral Insight, a Leadership Development and Coaching practice that services clients mainly in the Tech and Financial services sectors globally. She is transitioning from her role of Chief Executive Officer of ICT-Works, a company she founded in 1999, a role she has held since the company's inception, overseeing its growth and operations in South Africa and the rest of the African continent. An electrical engineer by profession, Ms Kakana has more than 30 years of experience in the Electronics Engineering and ICT sectors, holding positions in many blue-chip technology companies. Since the start of her career, she has positioned herself as a leader in the country's information, communication and technology (ICT) sector. She is an active contributor to the industry's evolution and people transformation.  She has held several non-executive director roles, including as chairman of SANSA (South African Space Agency) board and is currently a member of the ZA Central Registry (ZACR), Old Mutual Insure board and UJ Council.
She holds a BSc Maths and Applied Maths from the University of Transkei; a master's degree in Electronics Engineering from F.H. Giessen-Friedberg University, Germany; a Master's in Business Administration (MBA) from Henley Management College, London; a Master's Degree in Business Administration (MBA), Technology Management and Innovation from the Massachusetts Institute of Technology; and a Master's Degree in Public Administration (MPA) from Harvard University.
She is a certified Advanced Coach Practitioner & Facilitator with Clarity Academy and is Apprentice of Supercoach Academy.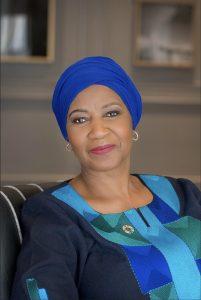 Chancellor: Dr Phumzile Mhlambo-Ngcuka
Phumzile Mlambo-Ngcuka is the former United Nations Under-Secretary-General and Executive Director of UN Women, who completed her term in August 2021 after being sworn into office on 19 August 2013. Dr Mlambo-Ngcuka was born in 1955 in Clermont, KwaZulu-Natal. After matriculating from Ohlange High School, she was awarded her bachelor's degree in the Arts and Education at the National University of Lesotho (awarded in 1980). She further obtained a qualification in Gender Policy and Planning from the University College London (in 1988), a master's degree in Philosophy from the University of Cape Town (awarded in 2003), and a doctorate in Technology and Education from Warwick University (awarded in 2013). She has authored several scholarly and other opinion pieces, including in the Harvard International Review. She was awarded Honorary Doctorates from the following institutions: Witwatersrand Technikon (2003) one of the precursor institutions of the University of Johannesburg (UJ), the University of the Western Cape (2007), Nelson Mandela University (2014), the University of Fort Hare (2016), Wits University (2019) and Rhodes University (2020). She was inducted as a Hauser Leader at the Harvard Kennedy School's Center for Public Leadership and awarded the Vanguard award by Howard University for Leadership and Activism in promoting human rights, equality and justice for women and girls across the globe. Throughout her illustrious career, she directed her energy towards issues of human rights, equality and social justice, with a specific emphasis on gender and youth development. She was a lecturer at the Mpumalanga Teachers Training College (1980-1981) and thereafter became a teacher at the Ohlange High School (1981-1983). She then moved to Geneva to take up the position as the coordinator at the World YWCA, where she established a global programme for young women (1984-1989). In 1989, she returned to Cape Town where she spearheaded TEAM, an ecumenical organisation that focused on upskilling women. She continued along this path of community service when she opened the World University Service in South Africa, where she promoted literacy and rural development. She also led her own consulting agency called Phumelela Services, where she focused on race and gender issues. Dr Mlambo-Ngcuka worked tirelessly on programmes and policies to reduce inequality throughout her political career. Her political journey began as a member of the first democratically elected South African Parliament (1994-1996), then as Deputy Minister in the Department of Trade and Industry (1996-1999), as Minister of Minerals and Energy (1999-2005), and finally as Deputy President of South Africa (2005-2008). An example of her commitments during her political career are the Accelerated and Shared Growth Initiative for South Africa (ASGISA), which afforded young unemployed graduates international working experience. Having dedicated her life to bringing an end to apartheid, she became the first woman to hold the position of Deputy President, the highest-ranking female political leader in the history of South Africa. As the head of the United Nations entity that is dedicated to gender equality and the empowerment of women, she is a global advocate for women and girls. She leads the organisation's innovative work on transforming social inequalities and discriminatory norms, with initiatives such as the HeforShe movement (driving men and boys' engagement in gender equality), the UnStereotype Alliance initiative (influencing advertising norms for positive change and equal representation) and helped countries to change hundreds of laws that discriminate against women and girls. She has also successfully mobilised a historic 40 billion USD in financial commitments from Member States, private sector, philanthropies and civil society as well as young people, which have formed Generational Equality to drive transformative change for women and girls around the world. Dr Mlambo-Ngcuka continues to be engaged and affiliated with organisations committed to education, women empowerment and gender equality. Such affiliations include the Umlambo Foundation (Founder), the Global Partnership and Fund to End Violence Against Children (Board Member), African Leadership Academy (Member of the Advisory Board) and the Mandela Rhodes Foundation (Board of Trustees).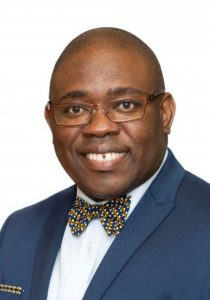 Vice-Chancellor: Prof Letlhokwa Mpedi
Letlhokwa George Mpedi completed his B Juris degree (1996) and LLB degree (1998) at Vista University. In 2001 the LLM degree in Labour Law was conferred upon him by the then Rand Afrikaans University (now University of Johannesburg). Upon completing his LLB, he was a Junior Lecturer in the Department of Mercantile Law at Vista University (Mamelodi Campus). He joined the Centre for International and Comparative Labour and Social Security Law (CICLASS) at the then Rand Afrikaans University as a researcher in 2000. In August 2003, Prof Mpedi accepted a position as a Research Fellow at the Max Planck Institute for Foreign and International Social Law in Munich (Germany). Upon his return from Germany in 2006, he was employed as a Deputy Director at CICLASS. In the same year, the LLD degree in Mercantile Law was conferred upon him by the University of Johannesburg. Before his current position as Deputy Vice-Chancellor: Academic, Professor Mpedi served as Head of Department: Practical Business Law (January 2011 – December 2012), Vice-Dean (January 2013 – December 2015), Director at CICLASS (January 2009 – December 2015) and Executive Dean (January 2016 – December 2020) at the Faculty of Law of the University of Johannesburg. He lectured labour law and social security to LLB, post-graduate and certificate students and has delivered papers at numerous national and international conferences. He has published widely in the fields of social security and labour law. His most recent publications include a co-authored book Labour Law in Ghana (2022), published by LexisNexis.