Home » UJ Library » Information Resources » Special Collections »
Visit us
UJ Doornfontein Campus (DFC)
Siemert Street entrance, cnr. Beit Street, Doornfontein, Johannesburg
​Hours
Monday – Friday
07:30 – 16:30
(excl. Public Holidays)
The University of Johannesburg Library's Special Collections comprise collections of primary source material and rare books.
The Special Collections' chief aim is to provide a valuable, unique research resource for the UJ community, as well as an easily accessible service to all researchers interested in southern Africa.
Although the primary source material and rare books cover many aspects of southern Africa, our focus is on Johannesburg and the Witwatersrand: its history, architectural heritage and people. Within this focus, our strengths are: mining and mineworkers and business, especially family business and small business development in Johannesburg.
Johannesburg, being a cosmopolitan city, has citizens from many different cultures and traditions and the anthropological collection of southern African cultures and languages is a valuable resource in this regard.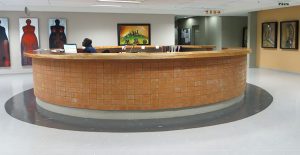 Collection on promotion
Bisschop collection on the Tomlinson Commission (1954)
Read the records of evidence, conference papers of the Church Leaders, the SA Institute of Race Relations, the Volkskongres, the Parliamentary debate in May 1956, and the reaction of the Press.
Access Regulations
Material is not available for lending or Inter-Library Lending (ILL).
Free entrance and use of our facilities and material is available to UJ staff and students, as well as CHELSA-users. All other visitors pay a visitor's fee.
Positive identification must be provided by all visitors.
Cash facilities for photocopying and computer printouts are available.
A handling cost plus a fee per page/ photograph will be charged for requests to scan images which are to be mailed to a user.
Access our digital archives from here.