Home » UJ Library » Information Resources » Special Collections »
UJ Library: Archives and Special Collections
Our digital archives are available on the UJContent platform – a division of the UJ Institutional Repository (IR).
You can browse the collections and contents by clicking here. ​Follow these instructions:
1) Click on "Browse" on the menu presented on top of the page and choose to browse "Communities & Collections".
​2) Search the collection you want to browse by clicking on the + next to the community and then on the specific collection.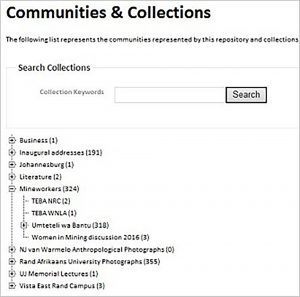 3) To browse the entire collection, click on Go. Alternatively, search for a specific item.