Centre for Psychological Services and Career Development (PsyCaD)

The Centre for Psychological Services and Career Development (PsyCaD)
provides services to students, staff and external clients at the University of Johannesburg (UJ). PsyCaD is present on each UJ campus and provides a variety of services including counselling, career guidance and assessment.
APB Impala Court | APK C-Ring 1 | DFC House 2, Louisa Street | SWC Adelaide Tambo Building (Academic Block)

The Centre for Psychological Services and Career Development (PsyCaD) has an array of online and telephonic counselling services available for UJ students and the broader community.
Counselling sessions are available through telephone calls or via video calling platforms i.e. Zoom, Skype or MS Teams.
For bookings and other queries, call PsyCaD offices on the following numbers*:
Auckland Park Kingsway
011 559 3324
011 559 2394
011 559 3106
011 559 4441
Auckland Park Bunting Road
011 559 1318
B5 Office/ External clients:
011 559 3106

Auckland Park Kingsway
011 559 3324
011 559 2394
011 559 3106
011 559 4441
Auckland Park Bunting Road
011 559 1318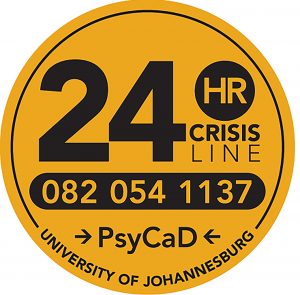 24 Hour Crisis Line​
*For UJ students and staff only
HIGHER HEALTH 24-hour student and staff helpline can be accessed as follows:
Toll-free call 0800 36 36 36
SMS 43336