Home » UJ Library » Information Resources » Special Collections » Online Exhibitions » A Little Voice in the Apartheid Wilderness (1971 – 1974) »
Excerpt from: "Death of a little magazine" by Stephen Gray in the journal Contrast Vol. 11 No. 2 April 1977.
"But Izwi itself was destined to have a clear run. By mid-January, 1972, Phil du Plessis had been hauled up for interrogation by the Special Branch. He had been advised, as a direct descendant of Dirkie Uys1, to go back to Fouriesburg in the Free State where he was born, and avoid the company of ex-drug addicts, hippie communes and 'non-White literary figures'. The inspection copies of Izwis nos. 1 and 2 were processed in John Vorster Square.
"Subscriptions came in from the editor of the post-war Vandag, Uys Krige; and Etienne Leroux began collecting our limited editions of signed graphics in each issue by subscribing more frequently than necessary. Adam Small was failing to revive The Classic, but Sipho Sepamla, then Sydney Sepamla, who was sending us early poems, would be bringing out New Classic once we'd completed our turn. Phil du Plessis did not go back to Fouriesburg. He was going to migrate to Lüderitz, though."
1 Dirkie Uys, held up as one of the heroes of the Great Trek (1836 onwards), was killed during the Battle of Italeni in 1838, which occurred after Piet Retief and his men were killed by Dingane's men. Legend has it that he died protecting his wounded father but the actual story appears to be that he lagged behind the retreat and was killed when his horse tripped and fell.​
Extract from "Fado vir die Ram" (Fado for the Ram) by Phil du Plessis
Izwi December 1st, 1972, vol.1 no.2
© Izwi
Phil du Plessis was an Afrikaans poet, musician and medical doctor (1944 – 2011). Following the appearance of his first anthology he was hailed by André Brink as the spokesman for an underground 'Sixties' group in Afrikaans poetry. Something of a Renaissance man, a leader of an Afrikaans avant-garde, his work was experimental, latterly integrating poetry and art.
His first poems were published in Sestiger, while he was becoming involved in the literary magazines Wurm and Ophir. Du Plessis served as editor of Wurm, Izwi and New Nation. It was at this period and, apparently, on account of some of this activity, that Du Plessis was held overnight for interrogation by the Security Police at the notorious apartheid-era John Vorster Square police station (now Johannesburg Central) in Johannesburg.
Extract from "The Seagull" by [Sipho] Sepamla
Izwi April 1st, 1974, vol.3 no.15
© Izwi
Sydney Sipho Sepamla (1932 – 2007) was a contemporary South African poet and novelist. His 1977 book The Soweto I Love, partly a response to the Soweto Uprising of 16 June 1976, was banned by the apartheid regime. He was a founder of the Federated Union of Black Artists (now the Fuba Academy of Arts) and editor of the literary magazine New Classic and the theatre magazine S'ketsh.
Poetry
Hurry Up to It! (Donker, 1975)
The Soweto I Love (1977)
Selected poems (Donker, 1984)
From Gorée to Soweto (1988)
Novels
The Root is One (1979)
A Ride on the Whirlwind (1981)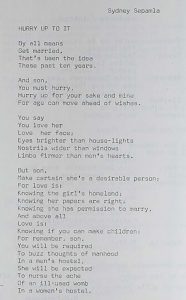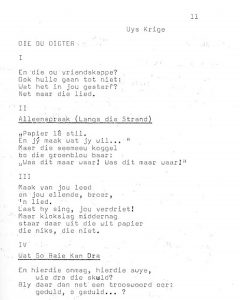 Extract from "Die Ou Digter" (The Old Poet) by Uys Krige
Izwi August 1st, 1974, vol.3 no.17
© Izwi
Uys Krige (1910 – 1987) was a South African writer of novels, short stories, poems and plays in both Afrikaans and English. He is considered to be one of the Dertigers (Afrikaans writers of the thirties) and was a friend of Herman Charles Bosman. He also translated poems and other literature into Afrikaans.
The Izwi editorial team hoped that, because of his considerable stature in the Afrikaans literary world, his involvement in Izwi would prevent it being banned.