Home » UJ Library » Information Resources » Special Collections » Online Exhibitions » A Little Voice in the Apartheid Wilderness (1971 – 1974) »
Excerpt from: "Death of a little magazine" by Stephen Gray in the journal Contrast Vol. 11 No. 2 April 1977.
"By the end of 73 it was building up to the U.C.T. Summer School Poetry Conference, and for the occasion the 'older' poets like Laurence Lerner, David Wright, Roy Macnab, Jack Cope, Jeni Couzyn (collared on visits to Johannesburg) were obliged to contribute. Izwi could be produced at speed, poured into the back of a car, got there without printers' hold-ups. To bypass copyright we reproduced pages of Voorslag, 48 years after the event, as illustrations to a review, and Campbell's words in Voorslag no. 1 have to hold for Izwi, and for the poetry conference: 'The only possible reply to Turbott Wolfe would be the production of another work of art as significant as Turbott Wolfe'. The issues that Voorslag raised in English South Africa in 1926 remained unresolved in 1973. 1974 saw the magazine becoming dreary, predictable, middle-aged. Doc Feddersen wrote in three languages. Gus Ferguson did us a cartoon of a fat man on a lilo in a swimming pool reading James Matthews' Cry Rage, banned. Wopko was making collages for Where White is the Colour / Where Black is the Number, banned. Breyten was yet to return. The last fling before the clampdown was a Battiss inspiration: a Fook Island number, stamped and posted in that tropical wonderland, which was all we didn't have, and would not have enjoyed if we had had it, and would lose a year later anyway. Battiss made a huge cut-up poster of almost all the poets functioning in English at the time in this country, including Jennifer Davids, Guy Butler, Ridley Beeton, Mike Kirkwood, Peter Strauss, Wally Serote and Lionel Abrahams, Walter Saunders and Michael Macnamara. They were all about to say something on that poster. That's literary history now."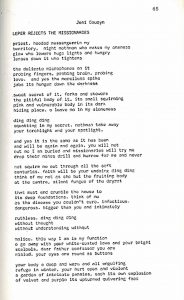 Extract from "Leper rejects the Missionaries" by Jeni Couzyn
Izwi February 1st, 1974, vol. 3 no. 14
© Izwi
Jeni Couzyn (1942 – ) is a feminist poet and anthologist of South African extraction who lives and works in Canada and the United Kingdom. Her best known collection is entitled Life by Drowning: Selected Poems (1985), which includes an earlier sequence A Time to Be Born (1981) that chronicles her pregnancy and the birth of her daughter.
Extract from "On William Plomer" by Peter Wilhelm
Izwi February 1st, 1974, vol. 3 no. 14
© Izwe
Peter Wilhelm (1943 – ) is a South African novelist, poet and journalist. Works include 'The Mask of Freedom' and 'Falling into the Sun'
William Charles Franklyn Plomer CBE (1903 – 1973) was a South African and British novelist, poet and literary editor. He was also a librettist for Benjamin Britten and mentor to Ian Fleming.
He became famous in South Africa with his first novel, Turbott Wolfe (1925), which had inter-racial love and marriage as a theme. He was co-founder of the short-lived literary magazine Voorslag ("Whiplash") with two other South African rebels, Roy Campbell and Laurens van der Post; it promoted a racially equal South Africa.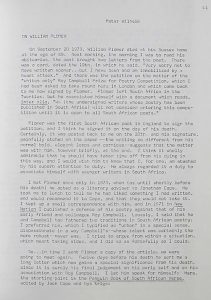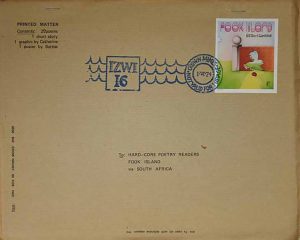 Fook Island Cover by Walter Battiss
Izwi 16, June 1st, 1974, vol. 3 no. 16
© Izwi
Walter Whall Battiss (1906 – 1982) was a South African artist, who was generally considered to be the foremost South African abstract painter and known as the creator of the quirky "Fook Island" concept.
​ ​This "island of the imagination" was a materialization of Battiss' philosophy for which he created a map, imaginary people, plants, animals, a history as well as a set of postage stamps, currency, passports and driver's licences. He created a Fookian language with a full alphabet as well. This utopian 'island' was a composite of the many islands he visited – which included Zanzibar, the Seychelles, Madagascar, Fiji, Hawaii, Samoa, the Greek Isles and the Comores – blended together in his customary imaginative fashion. In Battiss's words, "It is something that does not exist. I thought that I would take an island – the island that is inside all of us. I would turn this island into a real thing … I would give it a name".
Fook was a result of his fertile imagination as well as his opposition to the Conceptualist Art movement of the 1960s and 70s, in Europe and America. The movement espoused that the construction of art was confined to the 'moment' in which it was created. He believed to the contrary that all art exists in the now and this he argued to represent with Fook Island, which was always in the now and always an essential part of reality.
South Africans including actress Janet Suzman, artist (and Battiss protégé) Norman Catherine, writer Esmé Berman and many others embraced the philosophy of Fook Island. The journalist Jani Allan interviewed Battiss in 1982 and also agreed to his request of becoming a 'resident' of the imaginary island.
Battiss's Fookian Driver's License was accepted in America and the colourful pages of his Fookian Passport have official stamps from Australia, Britain and Germany. A Fookian banknote was also exchanged at a Rome airport for $10.
UJ Special Collections houses Battiss' unique Fook Book 1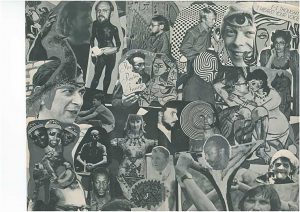 Part of the poster "The Poetic Image" photo montage by Walter Battiss. Photos courtesy of Bernard Jordaan (Rapport) & Vita Palestrand.
Izwi 16, June 1st, 1974,
vol. 3 no. 16
© Izwi
Some English-language poets featured in recent poetry conferences in South Africa:
Jennifer Davids – with glasses – underneath "I – I thought I heard your voice"
Sheila Roberts – blonde hair – head on torso of Greek doll
Guy Butler – in collar and tie – right of Sheila Roberts
Christopher Hope – beard and glasses on a body in a wet suit with a hat in his hand
Adam Small – behind "The Poetic Image"
Oswald Mtshali – 3 heads on a body playing a drum
Wally Serote – appears twice, either side of Guy Butler
Douglas Livingstone – with the woman and the cat
Wopko Jensma – below Oswald Mtshali
Robert Greig – eye in the middle of his forehead
David Farrell – above Oswald Mtshali