09 Namibia and censorship
Home » UJ Library » Information Resources » Special Collections » Online Exhibitions » A Little Voice in the Apartheid Wilderness (1971 – 1974) »
Excerpt from: "Death of a little magazine" by Stephen Gray in the journal Contrast Vol. 11 No. 2 April 1977.
"Wilma and I set off to join him for an editorial meeting, the only literary gathering with those aims in a near-castle in South West Africa, Pynchon country. 3 000 miles for the round trip; they were miles in those days, and in those parts they only occasionally joked about Namibia. A cheaper method to keep the triangular communication going was to phone Phil's patient who worked the Lüderitz [telephone] exchange after midnight, read him the submitted poems and ask him what he thought the doctor would think of them. He'd ask Phil, then phone back for free."
"Douglas Livingstone sent us sombre warnings about the muse in the form of articles. Two bookshops refused to carry a number (7) that featured a black boy and a white girl eating ice creams at the same table, although the table was folded in the middle. Walter Battiss drew us an obscene, naked orgy, which no-one noticed, and the greats of the literary world were invited in as translators (Uys sent us some Neruda translations typed by Ingrid Jonker, Karel Schoeman many Irish love songs). Dirk Meerkotter, Nils Burwitz, Raymond Andrew and particularly Christo Coetzee didn't mind the most exacting assignments for covers or graphics; there was a vast spirit of keeping things going. Even the unapproachable Alexis Preller donated."​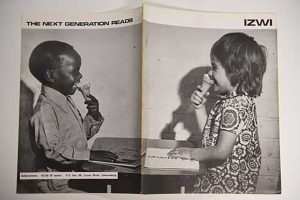 Cover by François Pietersen
Izwi December 1st, 1972, vol.2 no.7
© Izwi
Extract from "Drie Liefdesgedigte" [Three Love Poems] by Karel Schoeman
Izwi February 1st, 1973, vol.2 no.8
© Izwi
The poet praises his wife after she has left him.
Karel Schoeman (1939 – 2017) is known not only as a novelist, but is equally renowned as an historian and biographer. He has also published translations (especially of drama), several travel books and an autobiography. He won the most prestigious Afrikaans literary award, the Hertzog Prize, three times: in 1971 (for By Fakkellig, 'n Lug vol helder wolke and Spiraal), 1986 ('n Ander land) and in 1995 (Hierdie lewe). The Recht Malan Prize for "excellence in the field of non-fiction books" was awarded to him four times.
At the end of President Nelson Mandela term in office in 1999, Schoeman was one of only two writers to be awarded the State President Award: Order for Excellent Service. In more recent years, his fiction garnered much praise in France, winning inter alia the prestigious Prix du Meilleur Livre Étranger in 2009.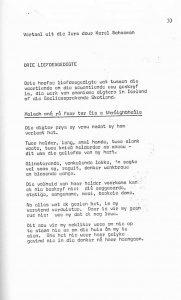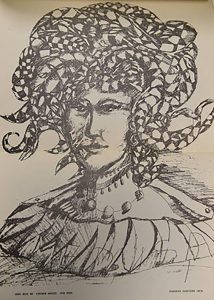 Poster "Medusa" by Christo Coetzee
Izwi August 1st, 1974, vol.3 no.17
© Izwi
Christo Coetzee (1929 – 2000) was a South African assemblage and Neo-Baroque artist closely associated with the avant-garde art movements of Europe and Japan during the 1950s and 1960s.
Cover by Alexis Preller
Izwi April 1st, 1973, vol.2 no.9
© Izwi
Alexis Preller (1911 – 1975) was a South African painter. Influenced by Gaughin, Van Gogh, African art and nature, Preller developed a unique style which isolated him from the artistic movements of the 20th century. Although highly regarded in his native Pretoria, this was not initially the case elsewhere in South Africa – an exhibition of his works in Cape Town in the late 1960s was coolly received by art critics there.
Recognition for his work has grown since then, and the opening of a major exhibition, "Africa, the Sun and the Shadows", of his works at Johannesburg's Standard Bank Gallery on 13 October 2009 was well attended