13 The end and immortality
Home » UJ Library » Information Resources » Special Collections » Online Exhibitions » A Little Voice in the Apartheid Wilderness (1971 – 1974) »
Excerpt from: "Death of a little magazine" by Stephen Gray in the journal Contrast Vol. 11 No. 2 April 1977.
"A last double issue seemed a neat way to go. No. 19 plus 20 included a praise poem to King Sobhuza II of Swaziland: 'Winds of change have blown over Africa . . . LONG LIVE SOBHUZA, THE LION OF SOMHLOLO!'
"There are complete sets of Izwis in the South African copyright libraries, and some in university libraries, and of course in Texas. There is New Classic to read now. And Donga. Contrast continues, recording. There is also a complete set of Izwis in the State Library, Winterthur, Switzerland."
Postscript
Izwi and its contemporaries: Contrast (Cape Town), Ophir (Pretoria), New Coin (Grahamstown) and Bolt (Durban) were alternatives to the harsh literary, moral and political censorship of the apartheid regime of the 70s. They allowed freedom of expression, not only in subject matter but also in style. They provided a medium for Afrikaans writers who were trying to find their voices, free from the constraints of the Afrikaans Writers' Guild, for South African English writers, who were not good enough to be studied at South African universities, and for black writers who were regarded as just not good enough. In all, 150 writers contributed to Izwi, quite an achievement. Izwi not only published works in English and Afrikaans but included translations from Owambo, Shona and Zulu (the Zulu with the English translation) as well as several European languages into Afrikaans or English. Young writers debuted and some went on to fame, while older writers were given freedom of expression. Some never made it, but they were given a voice in these literary magazines that were based on democracy, not elitism.
So what happened after Izwi?
Donga, started by Welma Odendaal, followed Izwi in 1976, continued to encourage young and free-thinking writers. Donga had three issues banned (not surprisingly, the ones with the most black contributors), which, under the law of the time, meant it has to cease publication. Inspan followed Donga in 1978. Inspan went the same way after producing only two issues. The latter's editor, Isabel Hofmeyr, was unsuccessfully prosecuted for blasphemy. Staffrider published by Ravan Press emerged in 1978 out of PEN Johannesburg, an organisation that brought writers together across the apartheid divides. It ceased publication in 1993.
So Izwei/Stem/Voice, though a small voice in the apartheid wilderness, was not alone and the voices continued and grew and more joined until…
Source: South African Literary Magazines 1956 – 1978 by Michael Gardiner
For a history and analysis of South African literary magazines from 1956 – 1978 read Michael Gardiner's book South African Literary Magazines 1956 – 1978, which accompanied the exhibition of the same name held in 2005. ​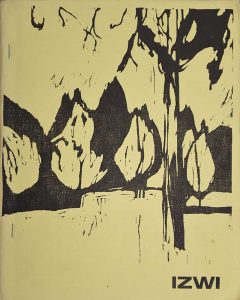 Cover by Alice Golden
Izwi 19 & 20, December 1st, 1974, vol. 4 no. 19 & 20
© Izwi
No information could be found about Alice Golden.
The last issue of Izwi was two issues rolled into one. One issue all English (20) and the other all Afrikaans (19). The editors used most of the works that had been submitted but had not used in previous editions, due to lack of space.
Extract from "King Sobhuza II" by Mpini Bernard ka Mbella
Izwi 19 & 20, December 1st, 1974, vol. 4 no. 19 & 20
© Izwi
No information could be found about Mpini Bernard ka Mbella.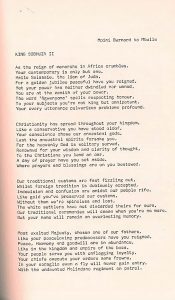 "Editorial 1: It's about Time" by Stephen Gray
Izwi December 1st, 1971 vol. 1 no. 2
© Izwi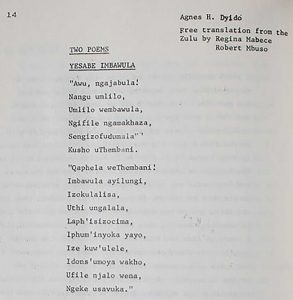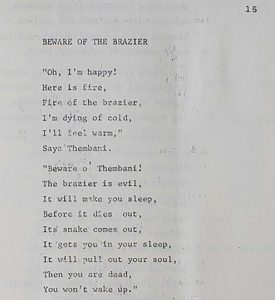 Extract from: "Yesabe Mbawula" by Agnes H. Dyido "Beware of the Brazier" Free translation from the Zulu by Regina Mabece and Robert Mbuso
Izwi December 1st, 1971 vol. 1 no. 2
© Izwi