Home » UJ Library » Information Resources » Special Collections » Online Exhibitions » A Little Voice in the Apartheid Wilderness (1971 – 1974) »
Excerpt from: "Death of a little magazine" by Stephen Gray in the journal Contrast Vol. 11 No. 2 April 1977.
"David Farrell and Geoff Haresnape were contributing – readying to turn out first volumes, much like everyone else. No-one who survived was not going to put out at least a first slim volume, in the Mantis series, through Ravan Press, Ad. Donker or Patrick Cullinan's Bateleur Press. Robert Greig sent the whole business up with his invention of the poet Sydney Sash, the rhymer of Leeu-Gamka: 'Leeu-Gamka, situated on the edges of the Karroo, is not entirely peripheral, and certainly its history sheds a light on Sash's poetry.'​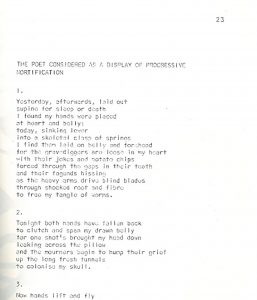 Extract from "The Poet Considered as a Display of Progressive Mortification" by David Farrell
Izwi August 1st, 1974, vol. 3 no. 17
© Izwi
David Farrell ([19?] – 2009) was a South African poet and journalist. He worked for the Rand Daily Mail. He left South Africa but returned in 1995 to work as a senior sub-editor at the Cape Argus. His anthology A Book of Lives (2007) is a poignant account of the different social and emotional landscapes man traverses on his personal journey: roads of love and loss, growth and disillusionment that interweave and intersect to write the pages of each individual's book of life.