Home » UJ Library » Information Resources » Special Collections » Online Exhibitions » A Little Voice in the Apartheid Wilderness (1971 – 1974) »
Excerpt from: "Death of a little magazine" by Stephen Gray in the journal Contrast Vol. 11 No. 2 April 1977 by Stephen Gray.
"Next: dinner with Oswald Mtshali. Oswald knew where black poets could be discovered by the dozen. Black poets walked in in the form of Sydney José, raconteur; Sydney José took the Izwi Volkswagen to collect contributions, and the Izwi Volkswagen was found on the road to Gaborone, burnt out. Mike Dues would help in weekend-long roneoing sessions; Don Mattera produced his autobiography, connecting Izwi with his youth during the Sophiatown Renaissance. Jenny Frazer contributed a poem from her commune near Riversdale; Jeremy Cronin, a few from U.C.T. Jeanne Goosen and Wessel Pretorius were going to be reliably prolific. Marié Blomerus was a link with Wurm, Barney Simon with The Classic."
Read more about Don Mattera in "Sophiatown", Izwi 2; 27-44.
Donato Francisco Mattera (1935 – ), better known as Don Mattera, is a South African poet and author.
PEN Award (1983) for Azanian Love Song
Noma Children's Book Award (1993) for The Five Magic Pebbles
Steve Biko Prize for his autobiography, Memory is the Weapon
Honorary PhD in Literature from the University of Natal, Durban
World Health Organization's Peace Award from the Centre of Violence and Injury Prevention (1997)
South African Order of the Baobab in Gold for "Excellent contribution to literature, achievement in the field of journalism and striving for democracy and justice in South Africa"
Oswald Mbuyiseni Mtshali (1940 – ) wrote poetry in Zulu and English. His first anthology Sounds of a Cowhide Drum was one of the first books of poems by a black South African to be widely distributed. It won the Olive Schreiner Prize in 1974.​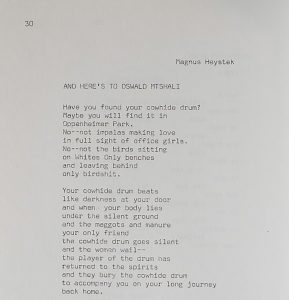 Extract from "And here's to Oswald Mtshali" by Magnus Heystek
Izwi August 1st, 1974, vol.3 no.17
© Izwi
Magnus Heystek is now a Director and the Investment Strategist of Brenthurst Wealth. He is the author of several books on investment and retirement planning.