Home » UJ Library » Information Resources » Special Collections » Online Exhibitions » A Little Voice in the Apartheid Wilderness (1971 – 1974) »
Excerpt from: "Death of a little magazine" by Stephen Gray in the journal Contrast Vol. 11 No. 2 April 1977.
"It boiled down to Phil, Wilma and me keeping the magazine on the go; Oswald no longer knew us, Lola was having trouble with her dog, and it was easier to travel as three. There were no petrol restrictions, then; South Africa was a milder place – one didn't remember Sharpeville. We had no hang-ups about expecting everyone of all languages to be in favour of the venture. We functioned through workshops (Wilma in Pretoria, myself at Wits and R.A.U.), through travelling separately or together to Cape Town, Grahamstown, Durban, Koffiefontein and once, triumphantly, to liaise with Roy Holland at Roma, Lesotho: Roy, before disappearing himself, brought in Njabulo Ndebele and Mbulelo Mzamane for no. 10. Of all those who made their debuts in Izwi, Mbulelo's first story was to go farthest fastest – New York; it felt like we should have another party. Welma Odendaal wrote in from Alice; Robert Greig from Cape Town; Leonard Koza from Elsies River; and Ahmed Dangor, smelling of perfume (he worked in a perfume-mixer's) arrived, and he was to be banned, too, because Don and he were among the first mild Black Power voices."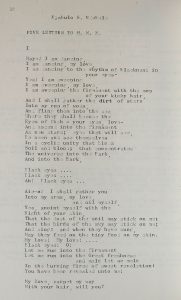 Extract from "Five Letters to M.M.M." by Njabulo Ndebele
Izwi June 1st, 1973, vol.2 no.10
© Izwi
Professor Njabulo Simakahle Ndebele (1948 – ), an academic and writer of fiction, is the former Vice-Chancellor and Principal of the University of Cape Town (UCT). In 2012 he was inaugurated as the Chancellor of the University of Johannesburg.
Some of his writings:
Fools and Other Stories, 1983
Sarah, Rings, and I, 1993
Bonolo and the Peach Tree, 1994
Death of a Son, 1996
Umpropheti/The Prophetess, 1999
The Cry of Winnie Mandela, 2004
Extract from [Untitled poem] by [Achmat] Dangor
Izwi April 1st, 1972, vol.1 no.3
© Izwi
Achmat Dangor (1947 – ) is a South African writer and the winner of many literary prizes. He was a political activist and attended Rhodes University. He was national chairman of the Labour Youth Organisation. He also worked for the Youth Department of the South African Institute for Race Relations in the Eastern Province. His banning order (1973 – 1978), which came into effect shortly after issue No. 10 of Izwi was published, prevented him from continuing his youth work at the SAIRR. Dangor was CEO of the Nelson Mandela Foundation until 2013 and was one of Nelson Mandela's closest confidants.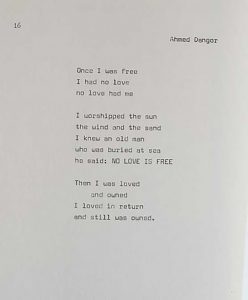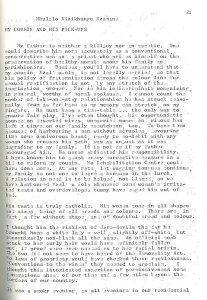 Extract from "My Cousin and his Pick-ups" by Mbulelo Mzamane
Izwi June 1st, 1973, vol.2 no.10
© Izwi
Mbulelo Vizikhungo Mzamane (1948 – 2014) was a South African author, poet, and academic. He held various academic positions in Lesotho, Botswana, England, Nigeria, USA, Germany, Australia and South Africa. In 1976 he was the first recipient of the Mofolo-Plomer Prize for Literature.
In 1994, after his return from exile, Mbulelo became the first post-apartheid Vice Chancellor and Rector of the University of Fort Hare, where he was also Professor of the Department of English Studies and Comparative Literature.
In 2012 he received the African Literature Association's Lifetime Achievement Award, The Fonlon-Nicholls Award, for creative writing, scholarship and human rights advocacy.
Some of his writings:
Mzala: The Short Stories of Mbulelo Mzamane (Johannesburg: Ravan Press, 1980)
My Cousin Comes to Jo'burg (Harlow: Longman, 1981)
The Children of Soweto: A Trilogy (Harlow: Longman, 1982)
The Children of the Diaspora and Other Stories of Exile (Western Cape: Vivlia Publishers, 1996)
Where There is No Vision the People Perish: Reflections on the African Renaissance (University of
South Australia: Hawke Institute, 2001)
Children of Paradise (UKZN Press, 2011)