Home » UJ Library » Information Resources » Special Collections » Online Exhibitions » A Little Voice in the Apartheid Wilderness (1971 – 1974) »
Excerpt from: "Death of a little magazine" by Stephen Gray in the journal Contrast Vol. 11 No. 2 April 1977.
"Joe Collyer came in with humour, and threatened to advertise Penguin Poets in the pages of Izwi. We did not accept advertisements, because we were paranoid about having editorial policy dictated by those paying: editorial was – all contribute financially ourselves, and publish South African. Mothobi Mutloase arrived with multiple-talk poems, and we went collecting in Swaziland, from where H.M. (Gus) Ferguson became our regular in-cartoonist. Peter Wilhelm had leads, and started a chain-novel in memory of Edgar Rice Burroughs, to which, by no. 11, he, Jean, Geoff, Cherry Clayton and I had contributed. Mike Oberholzer began writing for us from Ladysmith, Mark Swift from Cape Town, and Sinclaire Beiles1 from Athens. Just as Wurm had put out his Ashes of Experience, so Izwi was to publish his Tales, with Skotnes woodcuts, through a branch called Gryphon Poets that never did anything else except lose Sinclair's patron R870. Sinclair was an odd-ball connection dating from the Wurm underground, when he had maintained contacts with Allen Ginsberg and co., and the whole Belgium-Holland underground magazine nexus. Izwi was not part of a beat hangover; it was to do with writers based here, working outwards: Sheila Fugard, Sheila Roberts, Mutloase and Mzamane, Peet van der Merwe, Christopher Hope (whom we won a Pringle Award), then Chris Mann."​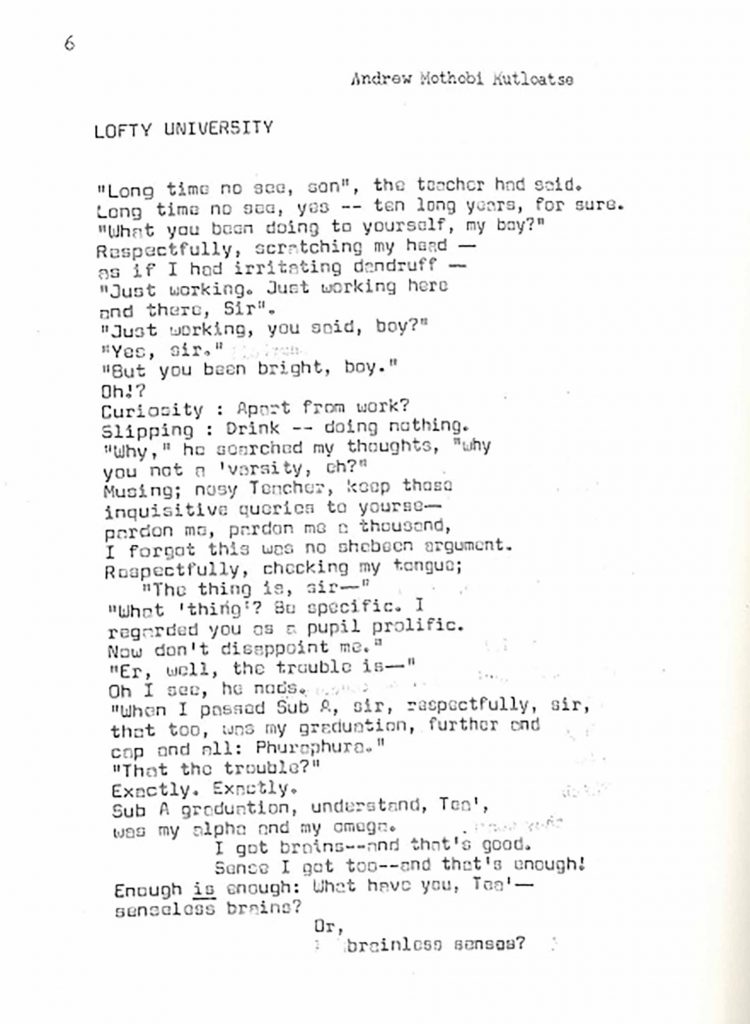 ​Extract from "Lofty University" by Andrew Mothobi Mutloatse
Izwi June 1st, 1972, vol.1 no.4
© Izwi
Mothobi Mutloatse (1952 – ) was a Black Consciousness writer. He was the editor of collections of stories, essays and social commentary entitled Forced Landing Africa South: Contemporary Writing (1980), Reconstruction: 90 Years of Black Historical Literature (1981) and Umhlaba Wethu (1984). Mutloatse was also instrumental in bringing attention to the literary output of Casey Motsisi. Mutloatse was the author of a collection of short stories entitled Mama Ndiyalila (1982) which focused on contemporary black life.
​​[Om] by Nosugref
Izwi June 1st, 1972, vol.1 no.4
© Izwi
Gus Ferguson (1940 – ) is a South African cartoonist, poet and pharmacist. His cartoons have been published widely in South Africa; he has also published poems accompanied by cartoons. He has run SnailPress (a small publisher invaluable as a vehicle for many young poets in South Africa) and has most recently published three books of cartoons: Love Amongst the Middle-Aged, Waiting for Gateau (The Dark side of the Roll) and Dubious Delights of Aging and Other Follies. He edits a poetry journal, Carapace.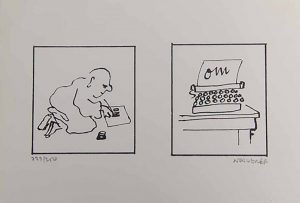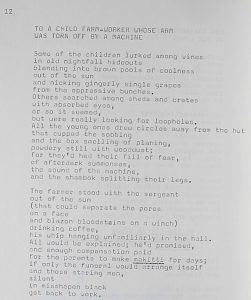 Extract from "To a Child Farm-worker whose Arm was torn off by a Machine" by Sheila Roberts
Izwi April 1st, 1974, vol.3 no.15
© Izwi
Sheila Roberts (1937 – 2009). Her collection of short stories, Outside Life's Feast, won the Olive Schreiner prize in 1975. She went into exile after her novel, He's my brother, was banned. She became director of the creative writing programmes and chair of graduate studies at the University of Wisconsin, Milwaukee
Extract from "Gansbaai" by Chris Mann
Izwi April 1st, 1973, vol.2 no.9
© Izwi
Christopher Michael Zithulele Mann (born 1948) is a South African poet. He is presently a professor of poetry with the Institute for the Study of English in Africa at Rhodes University. He is founder and convenor of Wordfest, a national multilingual festival of South African languages and literature with a developmental emphasis. A native English speaker, Mann is also conversant in Afrikaans, isiZulu and isiXhosa.
He has won the following awards:
Olive Schreiner Prize for South African Poetry in English.
South African Performing Arts Councils' Playwright Award.
Eastern Cape Premier's Award for Literature.
English Academy of South Africa Thomas Pringle Award for Poetry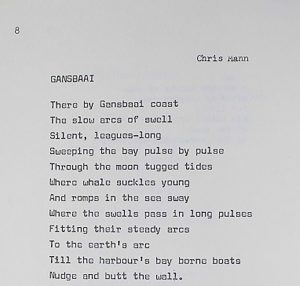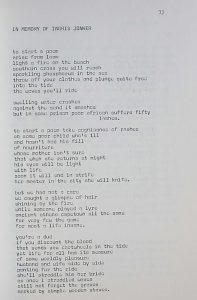 ​Extract from "In Memory of Ingrid Jonker." by Sinclair Beiles
Izwi August 1st, 1972, vol.1 no.5
© Izwi
Sinclair Beiles (1930 – 2000) was a South African beat poet. He lived in Europe for a period, associating with other beat poets and different artists, but returned to South Africa in later life. He was associated with the Johannesburg-based Gallery III group of poets, writers, composers and performance artists and lived in the central and artistic district of Yeoville. He had a burst of writing activity from 1991 to 2000, publishing a large number of poetry collections, including A South African Abroad (Lapis Press, 1991). He died in relative poverty.