Home » UJ Library » Information Resources » Special Collections » Online Exhibitions » A Little Voice in the Apartheid Wilderness (1971 – 1974) »
Excerpt from: "Death of a little magazine" by Stephen Gray in the journal Contrast Vol. 11 No. 2 April 1977.
"By no. 12 we had encountered Johann Mostert. We weren't to know that every poem he gave us was a last will and testament, and that he, too, would place his shoes neatly on a balcony and jump off a Hillbrow skyscraper after Vicky. With him came Lucas Malan, and Mike Nicol and James Mabin from Wits, Mike Fridjhon and China Macphail and Farouk Asvat. One began to tremble. None of them suicided, however. But Farouk Asvat was banned from attending meetings and from publishing."
An editorial shuffle
"By no. 13 Wilma had had enough. Her nerve had begun to go from the night we put Izwi's assets of R70 on the wheels in the Maseru Holiday Inn, and doubled up. She knew her follower to be Sheila Roberts, joint winner with her of the Space drama competition, and Sheila arrived from the University of the Western Cape to be, ingloriously, an editor of Izwi. Phil shuffled over in favour of Wessel Pretorius as Afrikaans editor, and Wessel and Sheila brought in new contributors, and a new routine of every seventh Sunday, a selection committee in Pretoria, every eighth a day of collating, stapling, hauling off to the post from Johannesburg."​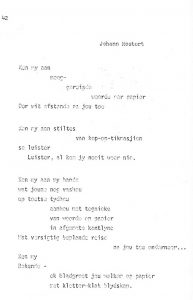 Extract from [Untitled poem] by Johann Mostert
Izwi August 1st, 1973, vol. 2 no. 11
© Izwi
The poet has lost his lover but she must not come back.
No information could be found on Johann Mostert.
Extract from "O Patria Mia" [Oh My Country] by Lucas Malan
Izwi June 1st, 1973, vol. 2 no. 10
© Izwi
Lucas Malan (1946 – 2010) was an Afrikaans poet and educator. He published six volumes of poetry – 'n Bark vir die ontheemdes (A Barque for the Displaced Ones) in 1981; Tydspoor (Time Trail) in 1985; Edenboom (Eden Tree) in 1987; Kaartehuis (House of Cards) in 1990; Afstande (Distances) in 2002; and Vermaning (Exhortation) in 2008. In addition, he wrote the epic meditative work Hongergrond (Hunger Ground), which appeared in 1994.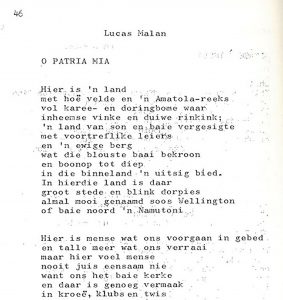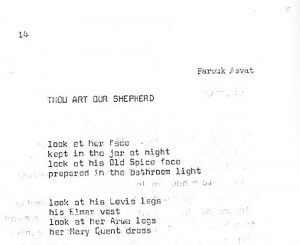 ​Extract from "Thou art our Shepherd" by Farouk Asvat
Izwi October 1st, 1972, vol. 1 no. 6
© Izwi
Farouk Asvat (1952 – ) was born in India and came to South Africa with his parents. He and his sister Amina Cachalia (whose collection is housed in UJ Special Collections) were anti-apartheid activists. Asvat was banned between 1973 and 1978.
His poems speak of love and hardship, individualism, pride and betrayal, human and environmental power and resistance to oppression. Sadness in the House of Love is a novel set during apartheid in Cape Town.
He won the Vita Literary Award for southern Africa for his anthology, A Celebration of Flames. His poem, "Possibilities for a Man Hunted by SBs" was selected to represent South Africa in the International Portland Review
Extract from "Fook Eiland (Vir Walter Battiss)" [Fook Island (For Walter Battiss)] by Wessel Pretorius
Izwi June 1st, 1974, vol. 3 no. 16
© Izwi
Wessel Pretorius (1949 – 2012) was an Afrikaans poet. From 1966, his poems appeared in Wurm and later in magazines such as Statements, Journal of Literature, New Nation, The Bloody Horse and also Izwi , which he edited for a while.
As a result of South Africa's strict censorship laws his novel, Storm Sevenster, was published in 1984 but never distributed because it dealt openly with a young boy's homosexuality