COLLOQUIUM: "An Injury to All: Solidarity Failures at the Dawn of the Anthropocene."
UJ PHILOSOPHY COLLOQUIUM
The Department of Philosophy at the University of Johannesburg invites you to the following hybrid/physical & online event:
TOPIC: "An Injury to All: Solidarity Failures at the Dawn of the Anthropocene."
PRESENTER: Darrel Moellendorf,
Professor of International Political Theory
and Professor of Philosophy, Goethe University Frankfurt, Germany
and
Distinguished Visiting Professor of Philosophy, University of Johannesburg.
24 March 2022, 11:00-12:30 (UTC+2)
Faculty of Humanities Common Room (C Ring 319) on APK
Online link: To be shared on Wednesday 23 March in the reminder email.
(In person-attendance: Please RSVP Ms Nicolene Marks mnmarks@uj.ac.za;
in-person attendance will be limited in line with Covid protocols)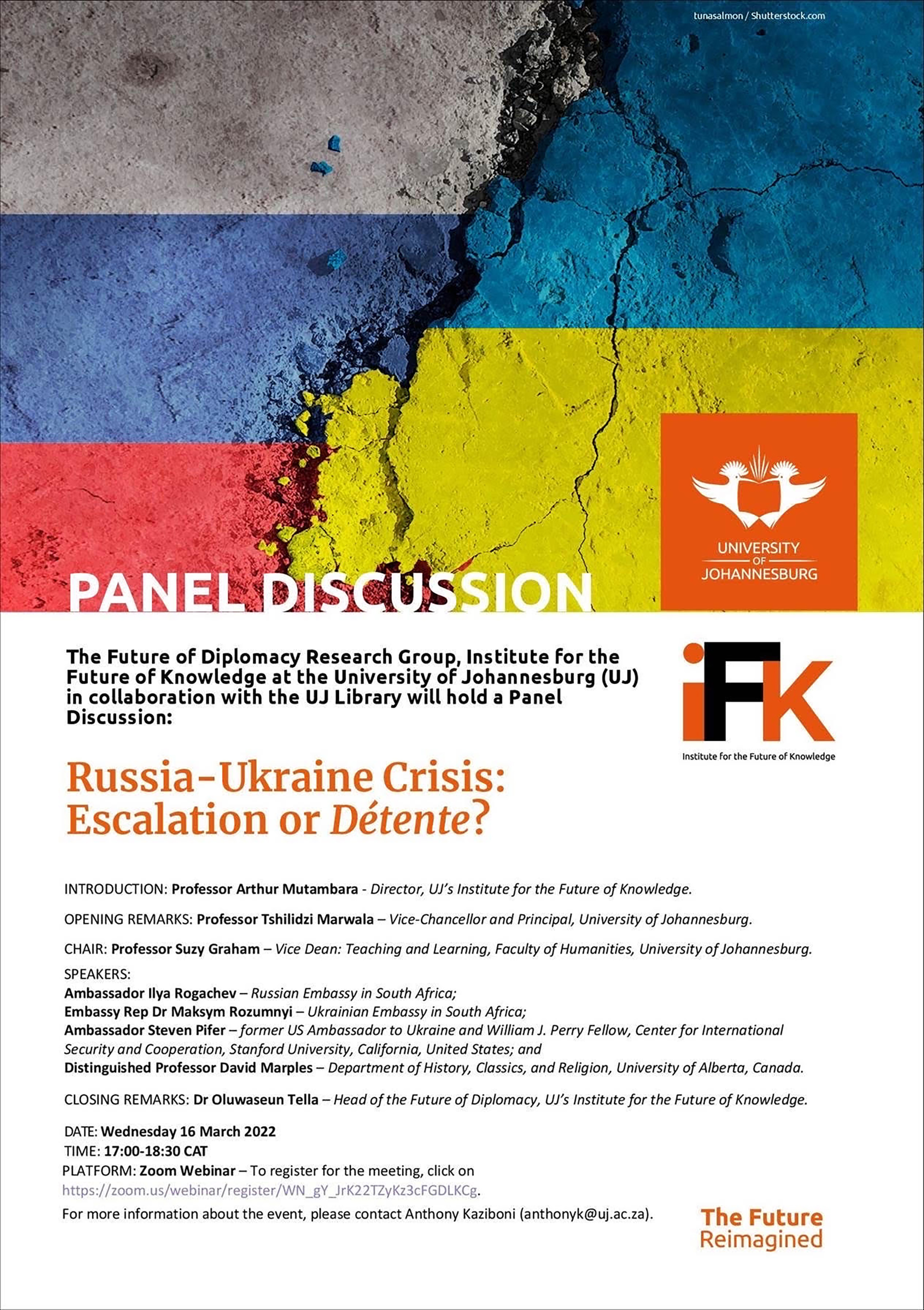 On Wednesday 16 March, 2022 @ 5pm, The Future of Diplomacy Research Group, Institute for the Future of Knowledge at the University of Johannesburg (UJ) in collaboration with the UJ Library will hold a Panel Discussion: Russia-Ukraine Crisis: Escalation or Détente?
To attend, please register at https://zoom.us/webinar/register/WN_gY_JrK22TZyKz3cFGDLKCg