10 Nadine Gordimer – No Cold Kitchen
Home » UJ Library » Information Resources » Special Collections » Online Exhibitions » Nadine Gordimer »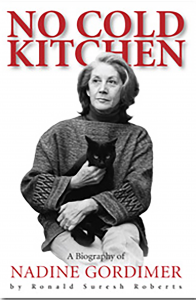 No Cold Kitchen was regarded as a "baggy monster" of a biography that most reviewers agreed needed more journalistic cutting, discipline and shaping. An article appeared on the Sunday Times poster titled, 'Gordimer bans book'. The caption explained that Nadine had tried to stop the publication of No Cold Kitchen in August 2004. Like everything else in the book, the various components that made up the concept were in an old and inharmonious relation to each other.
Gordimer revoked her authorisation of the project and persuaded her international publishers to drop the book, which they did. The book appeared complete with a mysterious title and unusual packaging via STE Publishers. The company is based in Johannesburg and is an independent business founded in 1996. They mainly publish books and other publications focusing on cultural and political history, biographies, autobiographies, photography, education and art.
Following publication in 2005, Gordimer put out a statement that the presentation of the work filled with her praise was misleading as she only saw the final product when it appeared on the shelves in Johannesburg. She also claimed that the book contained changes that were highly offensive and in breach of her final right of review.
The title of the book suggests Nadine's ability to endure the heat of SA's cultural politics. She seemingly decided not to get out of the kitchen but remained rooted in her Johannesburg home as a site where domestic rituals and violent intellectual creatives were not at odds.