Home » UJ Library » Information Resources » Special Collections » Online Exhibitions »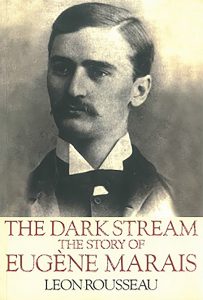 The exhibition is based on the life and struggles of Eugène Marais. Most of the information used was derived from the
book: The Dark Stream: the story of Eugène Marais by Leon Rousseau, published in 1982 by Jonathan Ball Publishers.
It is available at the Doornfontein Special Collections library under shelf number: SBV3 839.3684 MARA ROUS.
Other references used for this exhibition are listed below as:
Swart, S. (2004). The construction of Eugène Marais as an Afrikaner Hero. Journal of Southern African Studies, 30(4): 847-867
The Eugène Marais Foundation. (2019). Our Prospectus. Available from: http://eugene-marais.org.za/
Wikipedia. Eugène Marais. (2019). Available from: https://en.wikipedia.org/wiki/Eug%C3%A8ne_Marais