09. Desmond Tutu – Awards, Honours and Legacy
Home » UJ Library » Information Resources » Special Collections » Online Exhibitions » Desmond Mpilo Tutu »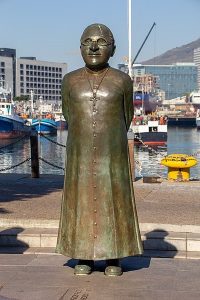 © mikepeel.net. The arch for Arch.
Image available from: https://commons.wikimedia.org/wiki/Category:Desmond_Tutu#/media/File:At_Cape_Town_(MP)_2018_233.jpg
Anti-apartheid hero and Nobel Laureate Archbishop Desmond Tutu left a legacy for justice and equality.
Desmond Tutu's many awards and honours are listed below.
Awards
1984: Tutu becomes the second South African, after Chief Albert Luthuli, to win the Nobel Peace Prize for efforts to end apartheid.
2009: Tutu received the US Presidential Medal of Freedom.
2012: Tutu is awarded $1 millionby the Mo Ibrahim Foundation for "his lifelong commitment to speaking truth to power".
2013: Tutu is awarded the 2013 Templeton Prize for his life-long work in advancing spiritual principles such as love and forgiveness which has helped to liberate people around the world". The prize is worth about $1.7 million.
Honours
1990: Honorary Doctor of Humane Letters
1991: Fellow of the African Academy of Sciences
1992: Bishop John T. Walker Distinguished Humanitarian Service Award
1993: Honorary Doctorate
 Legacy
1998: Tutu establishes the Desmond Tutu Peace Trust.
2013: The Desmond and Leah Tutu Legacy Foundation is establishedin Cape Town.
2017: The Arch for Arch is unveiled, an architectural structure and monument located in Cape Town, South Africa, created to commemorate the life and work of Desmond Tutu. Commissioned by Design Indaba and sponsored by Liberty, its name is a play on Tutu's widely used nickname, "The Arch".
Read More about Desmond Tutu's full list of Awards and legacies on History online: https://www.sahistory.org.za/sites/default/files/Desmond_Tutu_Awards_and_Honours.pdf