Home » UJ Library » Information Resources » Special Collections » Online Exhibitions »
Desmond Mpilo Tutu, the Rabble-Rouser for peace.
This exhibition is based on the life of Desmond Mpilo Tutu and his contribution to a peaceful and democratic South Africa. Most of the information used was derived from the book, Desmond Tutu: A Biography, published in 2004 by Greenwood Press in the United States of America.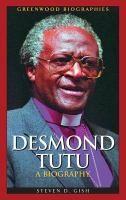 The book is available at UJ Library Doornfontein: Special Collections for in-libray use only.  Shelf no: SBV3 968.0099 TUTU GISH
Other references used for this exhibition are listed below:
1. Allen, J. (2006).Rabble-rouser for peace: The authorized biography of Desmond Tutu. London: Rider, 2006.
2. SA History Online. Archbishop Emeritus Desmond Mpilo Tutu. Available from:
https://www.sahistory.org.za/people/archbishop-emeritus-desmond-mpilo-tutu. (Accessed on 16 September 2022)
3. Academy of Achievers. Archbishop Desmond Tutu. Available from:
https://achievement.org/achiever/desmond-tutu. (Accessed on 16 September 2022)