06. Desmond Tutu – Witnessing the birth of the new South Africa
Home » UJ Library » Information Resources » Special Collections » Online Exhibitions » Desmond Mpilo Tutu »
In 1990, FW de Klerk announced the unbanning of ANC, PAC and SAC, and negotiations for a new South Africa, free from apartheid began. Nelson Mandela was released on 11 February 1990 after spending 27 years in exile, meanwhile violence erupted between Inkatha and ANC competing for black support, Tutu began to embark on a mission to promote peace and mediation in black townships impacted by the violence.
Tutu was part of the group of churches and business leaders that brokered a peace accord between the government and SA's main political parties in 1991. He urged both black and white South Africans to take stands against violence, to fight for peace and justice for all. When SACP leader, Chris Hani, was assassinated on 10 April 1990, South Africa almost embarked on civil war. Tutu preached reconciliation.
South Africa held its first Democratic election 10 May 1994. Nelson Mandela was inaugurated as the first black democratic president of South Africa. Tutu led prayer at the ceremony calling South Africans, Rainbow people of God, which he later wrote a book on.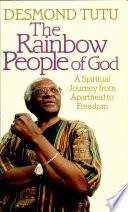 In October 1994, Tutu announced his intentions to retire as Archbishop. At his retirement dinner, President Nelson Mandela awarded Tutu with South Africa's highest honour – the Order of Meritorious Service, and he also received a standing ovation from his guests.
Read more about Nelson Mandela from a book,The illustrated long walk to freedom: the autobiography of Nelson Mandela written by Nelson Mandela, published in 1996 by Little, Brown and Company in Boston. The book is available in Special Collections UJ Archives @ DFC, shelf SBV3 920 MAND for in-library use only.