Community Engagement
Home » College of Business and Economics » Schools » School of Management » Departments » Department of Finance and Investment Management ​ »

DFIM helps you help others and empower your community by providing workshops for our NSFAS students to learn life skills that will benefit them.
Financial Literacy Workshop:
The Financial Literacy Programme is funded by INSETA and targeted at qualifying candidates, the content of which is to empower South Africans in matters of finance and equip them with mentorship skills on basic money management. Once accredited, the successful candidates will become financial mentors in their communities and assist their contemporaries in turn to become financially savvy and financially independent.
Mentors will be provided with training;
Money Management
Creating a budget and following it
Strategies of dealing with financial problems
Credit & debit management
Importance of saving
Mentoring technique
They will also be skilled in providing services on a one-on-one as well a group service including the following:
Budget skills
Financial goals (short and long term)
Income and expenses (fixed and flexible)
Sticking to your budget
Are you living within your means
Highlighting the importance of making savings an expense item on your budget
We are pleased to say that the 1st Financial Literacy workshop in partnership with INSETA was a huge success! The workshop ran online over a two week period and was concluded on 27 March 2021. All participants received certificates of participation.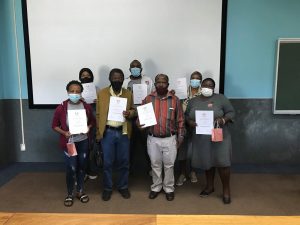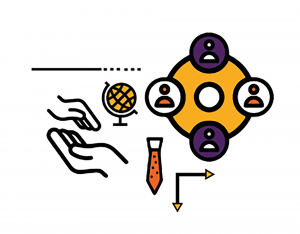 We believe that the impact of the training can be hugely amplified if the skills that were taught to attendees, could be transferred in their communities. It makes sense then to not only train, teach and enhance the financial literacy of the attendees, but to provide them with the skills and tools to be mentors on money skills in their community.
Our Community Projects:
The Department of Finance and Investment Management (DFIM) is also passionate about Community Involvement.
T​he Department undertook the following Community Involvement Projects:
10 February 2023:
We spend the day spready love and laughter at the Park Care centre and had loads of fun.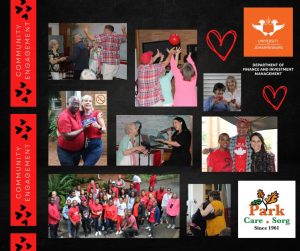 2 September 2022 – Park Care
The Department visited Park Care, an independent charity organisation registered as a non-profit. Park Care provides specialised 24/7 nursing care and palliative and holistic support to older and frail persons within a caring residential setting. Like the colours of a rainbow, many ethnic, language and religious segments are represented in Park Care's resident profile. There have been residents as young as their late 20s and as old as 101.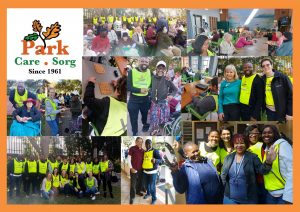 DFIM Nelson Mandela day 2022:
Monday the 18th of July 2022- the DFIM attended a day at the Door of Hope Village to make bricks that will be used to build houses for their Orphanage. Door of Hope has been in service for 22 years, helped 1 837 babies, and currently has 68 babies in their care. They take in abandoned babies and help find these children homes by getting them adopted into loving homes.
For more information, here is their website: https://doorofhope.co.za/our-work/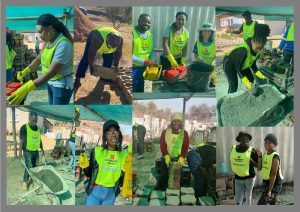 Nelson Mandela Day:
DFIM @ Mandela Day (in aid of iThemba Rape and Trauma Centre)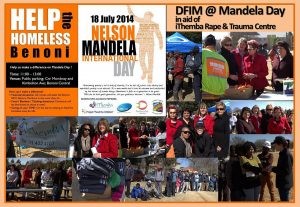 Baby Moses Child Sanctuary:
The Department of Finance and Investment Management collected baby clothes and feeding equipment for babies for their Roodepoort Home during 2014. Baby Moses is a registered non-profit sanctuary for abandoned babies and abused and neglected toddler and orphans in Johannesburg. It opened its doors 10 years ago and currently has 70 children and child headed families in its care.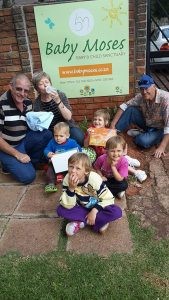 THEMBA-HOPE4U Ladies Tea:
The Department of Finance and Investment Management supported iThemba Rape and Trauma Centre on 9 May 2014 with their Ladies Tea function. The Centre is a rape and trauma support centre that assists with the examination, medico-legal aspects and emotional support for survivors of crime and sexual assault and that ensures that the survivors receive support and counselling, free of charge. The iThemba Centre also provides pre and post HIV counselling as well as post trauma counselling.
At the iThemba Rape and Trauma Centre, qualified forensic nurses, social workers and social auxiliary workers are employed to professionally assist victims. Together with the South African Police Services, we are able to bring offenders to book!
The centre joined venture on Mandela Day, 18 July 2014, with the 'Help the Homeless Benoni Project'. Hundreds of cups of warm soup, bread, clothing, blankets and fruit were handed out on the corner of Mowbray and Kimbolton Avenue in Benoni. DFIM staff helped out with the contributions of blankets and bread for the less fortunate.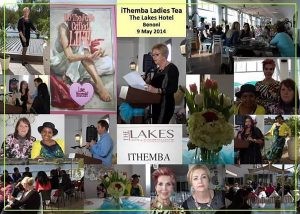 Gugulethu Place of Safety:
The Department of Finance and Investment Management collected baby clothes and feeding equipment for babies continuously during 2014.This organization is a place of safety for children 0 to 13 years old.​