Short Learning Programmes (SLP)
Home » Engineering & Built Environment » Centers | Units | Institutes | Stations » The Sustainable Human Settlement and Construction Research Centre »
Certification in Construction Project Management
The Sustainable Human Settlement and Construction Research Center (SHSCRC) in the Department of Construction Management and Quantity Surveying, University of Johannesburg calls for applications for a Short Learning Programme in Construction Project Management.
The certification program will ensure that registered students gain Mastery on:
Construction Project Management Process, Concepts, and Methodology
Construction 4.0 Technologies
Relevant case studies on managing complex construction and infrastructural project.
Construction Project Financing and
Sustainable Construction Project Management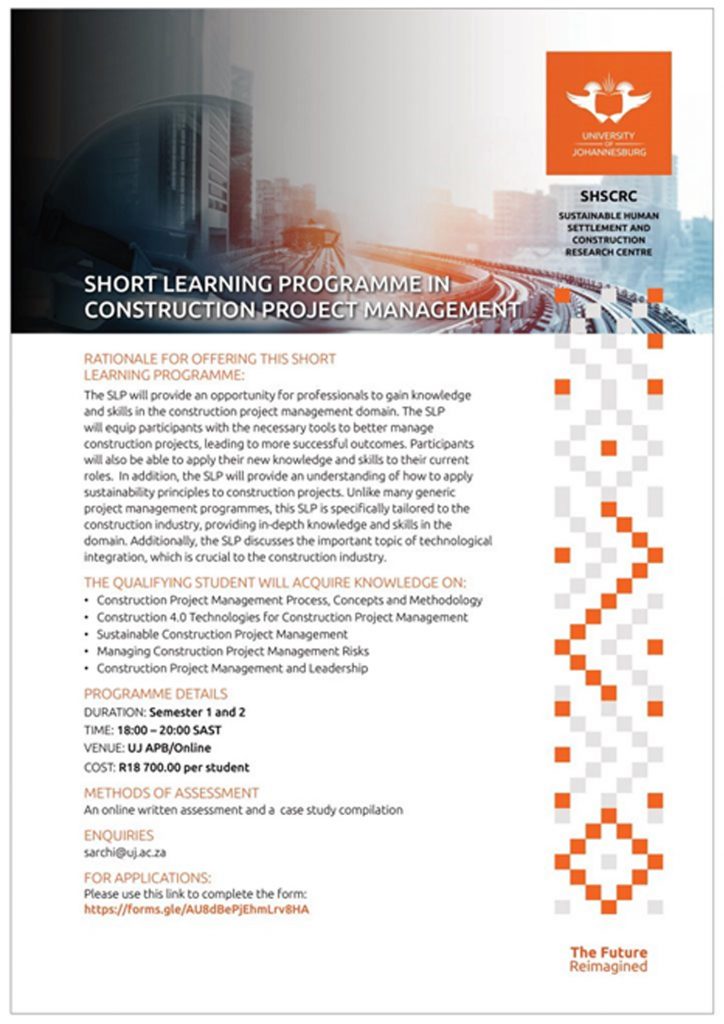 Application Details:
Duration: Semesters 1 and 2
Teaching Mode: Hybrid (Virtual and Physical)
Venue: UJ APB Campus
Application Link: https://forms.gle/AU8dBePjEhmLrv8HA
The certification in Construction Project Management will be issued by the University of Johannesburg, South Africa.
Application deadline: 9th June 2023
Kindly check the flyer for more info, and if you are interested fill out the the application link
Construction Contract Management