Research Opportunities
Home » Engineering & Built Environment » Centers | Units | Institutes | Stations » The Sustainable Human Settlement and Construction Research Centre »
SACQSP Conference 2023: Call for Abstracts
The 2023 SACQSP Conference organized by The South African Council for the Quantity Surveying Profession (SACQSP) and the Department of Construction Management and Quantity Surveying, University of Johannesburg, South Africa, Call for Abstracts.
The conference calls for Abstracts and full paper Submission in accordance with the themes in the attached flyer.
Theme- Digitalization of the Quantity Surveying Practice: Towards a Sustainable Profession
Date: 22 – 23 October 2023
Venue: The Maslow Hotel, Cnr Grayston Drive & Rivonia Road Sandton, South Africa.
Important Deadlines
Submission of Abstracts: 15 June 2023
Notification of Acceptance of Abstracts: 30 June 2023
Submission of Full Papers: 30 July 2023
Notification of Decision on Papers: 20 August 2023
Submission of Revised Papers: 10 September 2023
Note: Full paper submissions are welcome by 15 June 2023
Submission Links:
Abstract of not more than 300 words: http://tiny.cc/sacqsp-submission-link
Abstract Template: http://tiny.cc/sacqsp-abstract-template
Full Papers submission: http://tiny.cc/sacqsp-submission-link
Full Paper Template: http://tiny.cc/sacqsp-2023-full-paper
Contact: sacqspsaci@gmail.com
Kindly check the attached flyer for more details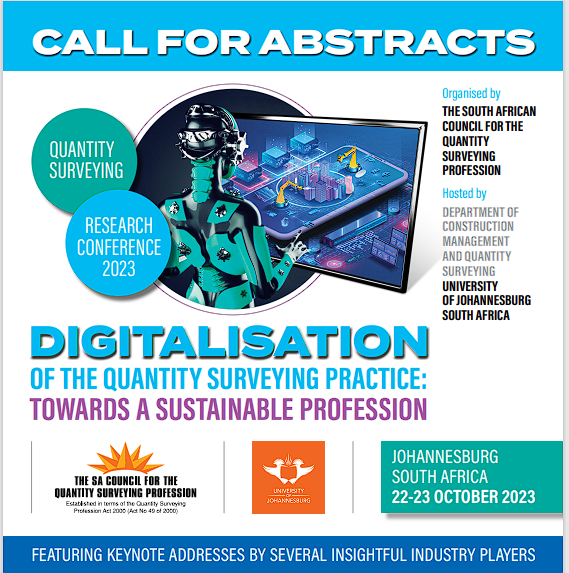 Download the full flyer via: https://t.ly/mUJ4