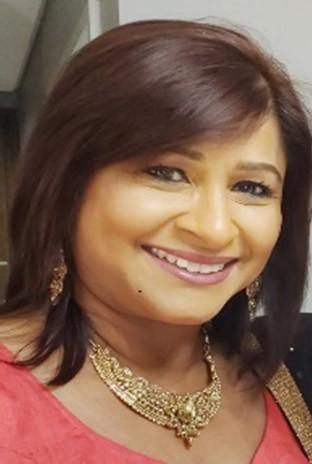 About Prof Padhma Samantha Moodley
Qualifications:
DPhil, University of Zululand, 2013
Overview/bio:
Prof Padhma Moodley (Samantha) is Associate Professor in the Department of Strategic Communications, in the School of Communications at the University of Johannesburg.  Her areas of interest lies in Marketing, Product Management, Market Segmentation, Social Media Marketing, Consumer Behaviour, Social Media, Communications, Research Methodology as well the Scholarship of Teaching and Learning. Prof Moodley has presented at several international conferences in the disciplines of Marketing and Communication.  She has published widely and is currently supervising a number of postgraduate students within the disciplines of marketing and communication.
Research Interests: Marketing, Consumer Behaviour, Social Media Marketing, Market Segmentation, Branding
Journal publications
Moodley P., Buthelezi M., Cloete, J. 2021. "Consumer perception towards online shopping" Retail and Marketing Review, Vol17 (2)
Moodley P., Musasa, T. 2020. An adapted Consumer Decision-Making Styles  Inventory of Millennial Consumers, Retail and Marketing Review, v 16 (2)
Musasa T., Moodley P. 2020. The role of psychological antecedents and consumer innovativeness in determining consumer decision making styles of South African Millennial consumers, Eurasian Journal of Business and Management, 1(1) 1- 14
Moodley, P. 2017. Open Spaces: The new frontier for academic writers. South African Journal of Higher Education. Vol 31(2) pp 108-123
Moodley, P. & Singh, R.J. 2016. Parental Regulation of the lnternet: Issues of Control, Censorship and cyberbullying. Moussaion, 34(2) 15-30
Moodley, P. 2015. Student overload at university: Challenge's lecturers face. South African Journal of Higher Education, 29(3)
Moodley P. & Singh, J.R. 2015. Addressing Student dropout rates in South African Universities. Alternation, Special Edition 17 91-115
Moodley, P., Singh J.R. & Cloete, J. 2015. Exploring student perceptions of using the Learning Management System and Social Media for Blended learning at a rural university, Progression: South African Journal for Open and Distance Learning Practice 37(1) 68-82
Conference proceedings (in the last 5 years)
Moodley P., Ntobaki, 2021 P. 6TH Interdisciplinary Conference of Management Researchers – Dec 17-19 2021, Sri Lanka (DHET accredited) – Paper presentation "Implications for brand choice through Consumer engagement on social media platforms" (UJ & Botho University)
 Moodley P., Jembere S. 2021 MBALI Interdisciplinary Blended Conference 2021 Dec 1-3, 2021, University of Zululand. Paper presentation, "Consumer    Acceptance of Artificial Intelligence Devices, a millennials perspective" Moodley P, Jembere S
 Moodley P., Jembere, S. 2021 South African Conference for Artificial Intelligence Research, UKZN, Dec 6-10 (DHET Accredited) – Paper    presentation "Consumer perspectives on AI and HAI technologies and its implications on customer satisfaction"
Conference participation (in the last 5 years):
Moodley P., Ntobaki, 2021 P. 6TH Interdisciplinary Conference of Management Researchers – Dec 17-19 2021, Sri Lanka (DHET accredited) – Paper presentation "Implications for brand choice through Consumer engagement on social media platforms" (UJ & Botho University)
  Moodley P., Jembere S. 2021 MBALI Interdisciplinary Blended Conference 2021 Dec 1-3, 2021, University of Zululand. Paper presentation, "Consumer    Acceptance of Artificial Intelligence Devices, a millennials perspective" Moodley P, Jembere S
 Moodley P., Jembere, S. 2021 South African Conference for Artificial Intelligence Research, UKZN, Dec 6-10 (DHET Accredited) – Paper    presentation "Consumer perspectives on AI and HAI technologies and its implications on customer satisfaction"
Moodley P.2019. The adoption of Social Media by adult learners as an e-learning platform. Full paper presentation at the International Academic Conference (IISES) in Copenhagen, 24-27 June 2019
Moodley P & Buthelezi M. 2019. A shift from Brick to Click Retailing in Durban, S.A.: Customer's perceptions. Full paper presentation at the 9th Business and Management Conference (IISES) in Prague, 17-20 June 2019
Moodley P. 2017. Addressing Student Dropout at Universities. Full paper presentation at the DUT 2nd Institutional Research Conference 30 August