Research
Home » Engineering & Built Environment » Departments » Department of Metallurgy »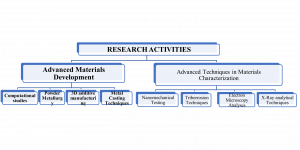 RESEARCH FOCUS
Powder-based techniques for processing and advanced techniques for performance assessments of sub-micron & nanostructured metallic alloys and MMCs with light-weight, high-strength, high temperature, as well as wear-corrosion resistant and biocompatibility properties for;
Automotive and aerospace application
Mining, chemical, marine & allied applications
Biomedical implants
Microelectronics
Energy storage
RANGE OF RESEARCH FOCUS
Materials Systems
Nanoengineered lightweight materials, High entropy alloy systems, Superalloy systems,Smart materials systems
Fabrication/manufacturing techniques
Spark Plasma Sintering (SPS) technology ,3D additive manufacturing and Metal casting
Materials Testing and Characterization
Microstructural (image) analyses, Functional properties, Mechanical and nanomechanical testings
Ore recovery processes
Applied mineralogical studies ,Electrochemical analysis and predictions and Reduction studies
Characterization FACILITIES
Suites of sample preparation facilities , High-performance optical microscopes, Tungsten Filament SEM, High-Resolution FE-SEM, Empyrean X-ray Diffractometer, Rikagu X-ray Diffractometer, X-Ray fluorescence, Atomic Absorption Spectroscope, Inductively coupled Plasma Spectroscope, High Temp thermal conductivity analyzer (2,800 °C)
Materials testing FACILITIES
Micro and macro hardness testing facilities
Universal tensile testing system
High temperature nanoindentation system (800 oC)

Hardness properties
Fracture toughness
Tensile properties
Creep properties
Fatigues properties

Corrosion and electrochemical measurement facilities
Erosion-corrosion and tribocorrosion measurement facilities
Room and high temperature tribometers (1000 oC)

Friction co-efficient
Wear phenomena

OUR PROJECTIONS
Vision :
From powder to advanced materials
From lab scale to industrialization
Our plan is to upscale from lab research to product development, and start an SMME
Knowledge Know-How:
Powder processing
Consolidation technologies
Integrity Performance assessment
Examples of  development:
Lightweight metals
Smart materials
UNIQUE MATERIALS TESTING SYSTEMS

High Temperature
Nanoindentation System (800 oC)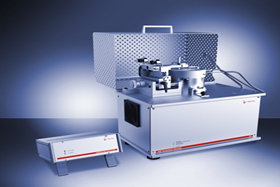 High Temperature Tribometer (1000 oC)
UNIQUE MATERIALS CHARACTERIZATION SYSTEMS

FEG-SEM with EBSD and Tensile Testing up to 10kN 
Research Centres
The Centre for Nanomechanics and Tribocorrosion (CNT) at UJ is an International Research Centre for knowledge and skill interchange in the field of Nano engineered and advanced materials research. The Centre focuses on skill training, capacity building and research opportunities for postgraduate students, scientists and engineers, in the emerging areas of Nano engineered and advanced materials with more emphasis on advanced alloys and metal matrix composites, Nano mechanics and tribocorrosion techniques. The Centre facilitates knowledge transfer between academia and industry/business through dissemination, promotion and commercialisation of innovations and inventions as well as offering consultancy services and advice in technology development and solving complex industrial problems.
The Centre has well-resourced laboratories that are fully equipped with state-of-the-art research facilities including Nanoindentation system, High-Resolution Scanning Electron Microscope with EDS/EBSD and multistage materials testing systems, tribological and tribocorrosion testing systems, electrochemical corrosion measurement systems, micro and macro hardness testers, micro-tensile testing systems and computational materials modelling workstations. The Centre has a shared-facilities partnership with the Institute for Nanoengineering research at TUT where the innovative Hybrid Spark Plasma Sintering system and other powder metallurgy facilities are housed