News & Events
Home » College of Business and Economics » Schools » School of Management »
Chemnitz University of Technology visit
A delegation from Chemnitz University of Technology (CUT) visited the School of Management on 16 and 17 February 2023. The delegation consisted of Prof Stefan Hüsig – Dean of the Faculty of Economics and Business Administration, Chair for Innovation Research and Management of Technology, Dr. Anja Herrmann-Fankhänel – In charge of AAE Summer School program, international research & teaching projects, and Mr. Stephan Kunitz – International Office, ERASMUS+ Departmental Coordinator of the Faculty of Economics and Business Administration.
UJ colleagues in attendance were:
Prof Adri Drotskie, Director of the School of Management,
Prof Marita Pietersen, Quality Assurance Manager,
Dr. Ronel Toerien, Manager: CBE Corporate and Postgraduate Projects and Internationalisation
Prof Sivan Chetty, CBE Dean of Teaching and Learning
Prof Geoff Goldman, Acting Head of the Department of Business Management,
Prof David Pooe, Head: Business Management MCom and PhD programmes,
Prof Ziska Fields, UJ Representative
Dr. Cashandra Mara, Coordinator: Business Management Internationalisation.
The purpose of the visit was to meet with UJ colleagues to further build on a memorandum of agreement that has been in practice since 2021, initiated by Prof Ziska Fields.
Over the two days, discussions were held on possible exchanges of undergraduate and postgraduate students, lecturing staff exchanges, collaborative research opportunities, and available funding.
Chemnitz University of Technology (CUT) offers plenty of English modules suitable for South African exchange students. Opportunities exist for MCom Business Management specializing in Supply Chain and the MCom Sustainability Management students to attend a few modules at CUT. There are also opportunities for lecturers to present some modules at CUT and for CUT lecturers to present modules at UJ. Additionally, joint student dissertation supervision, initially on masters' level, was discussed. We agreed to have a link to the CUT website on the UJ website, and CUT will do the same for UJ.
The German Academic Exchange Service (DAAD) makes funding available for joint research and expertise, as well as student exchanges. In addition, UJ's International office has funds available for studies abroad.
Both universities expressed their commitment to the exchange, which presents many opportunities due to our similarities. Parties in attendance were optimistic that the agreement would work and be mutually beneficial. A summer school hosted by CUT in September in Durban was identified as a good start to the relationship as it will have a high impact and forge closeness between the universities. The parties also agreed that the memorandum of agreement would be forged further through cementing collaborative research and staff visits. The visitors thanked UJ staff for hosting the visit and appreciated our hospitality.
Chemnitz Delegation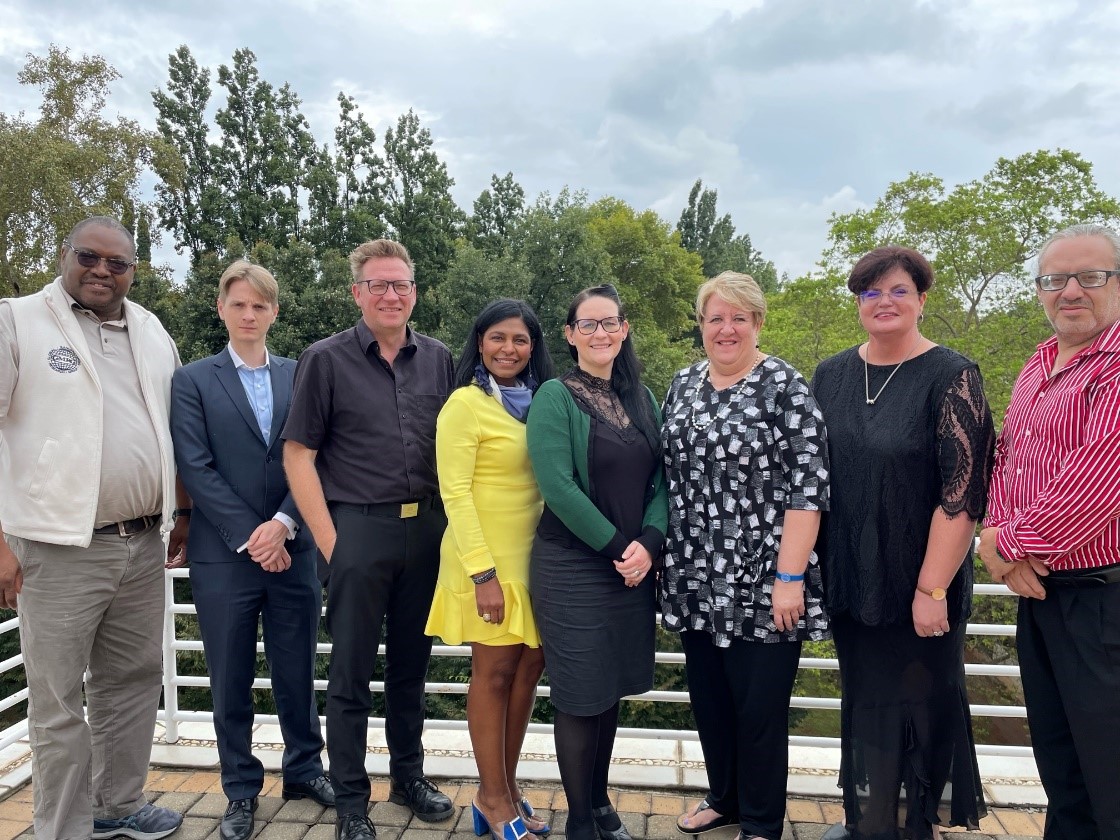 Chemnitz visit at UJ Kingsway Campus