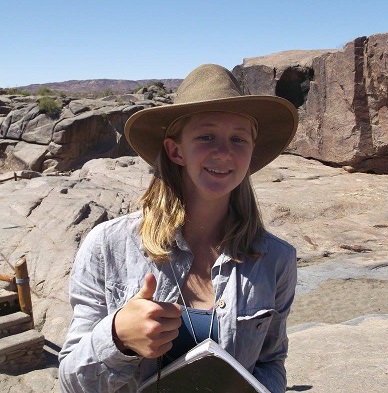 Project title:
Pressure-temperature-time-deformation (P-T-t-d) constraints on the mechanisms of dome formation in the southern Central Zone of the Damara Belt, Namibia. A bit more: Combining field-based structural geology with thermodynamic modelling and geochronology to unravel the tectonometamorphic evolution of the Namibfontein-Vergenoeg Dome, with broader implications for that of the Central Zone of the Pan African Damara Orogen.  
Supervisors:
Prof. Jérémie Lehmann (UJ), Prof. Marlina Elburg (UJ), Dr Pavlína Hasalová (Czech Geological Survey)  
Research interests:
Structural geology (field-based), geochronology, thermodynamic modelling, tectonics, orogenesis, remote sensing  
Publications and previous work:
Ormond, R. J., and Lehmann, J. (2022). Polyphase Archean to Paleoproterozoic deformation along the northwest margin of the Johannesburg Dome, Kaapvaal Craton. Journal of Structural Geology, 157, 104554.
MSc thesis (2019, unpublished): Structural and geochronological constraints on the formation of the Johannesburg Dome, University of Johannesburg, pp 178.
Honours thesis (2016, unpublished): Structural geology and geochronology of the Zwartkops Hills, University of Johannesburg, pp 44.
Find me on LinkedIn: https://www.linkedin.com/in/robyn-ormond-5a786285/