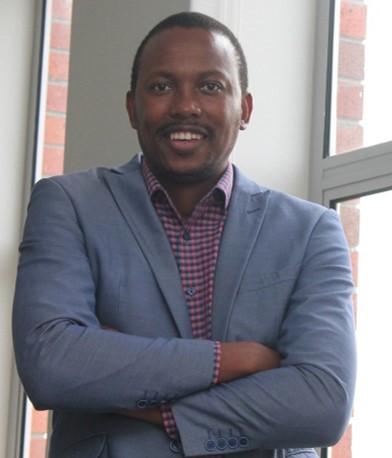 About Prof Karabo S. Ntwampe
[1]. Research focus: Beneficiation of waste materials and bioprospecting of novel biocatalysts for process design including natural resources engineering for process and biological/biotechnology engineering applications. [2]. Current active collaborations: (a) HICoE-Centre for Biofuel and Biochemical Research, Universiti Teknologi PETRONAS, Malaysia, Projects: (i) black soldier fly larvae protein and lipid production for various biological product synthesis/production, (ii) Green chemistry approach for pretreatment of agricultural waste, (b) Biometallurgy Division, Mintek, Randburg, South Africa, Project: Acid mine drainage treatment, (c) Water Research Group, Department of Civil Engineering, University of Cape Town, Cape Town, South Africa. Project: Poultry slaughterhouse wastewater treatment. [3]. Keynote/plenary presentations: (i) Ntwampe, S.K.O.: Plenary Session I. One pot-multi-reaction pre-treatment of mixed agro-waste for a third-generation bio-refinery, 9th International Conference on Advances in Science, Engineering, Technology and Waste Management (ASETWM-17), Nov. 27-28, 2017 , Parys, South Africa. (International conference), (ii). Ntwampe, S.K.O.: Plenary Session III: South African PhD research project: 5 – 7 May 2010, South Africa, Emperors palace. Paper: Work-Life Balance: Advocating for "laziness" in research? [4] Primary funder: National Research Foundation (South Africa). [5] Reviewer/Journal: Bioresource Technology, BioResources (online Journal), Biotechnology Journal, Environmental Engineering and Management Journal, International Journal of Environmental Engineering Science, Bioprocess and Biosystems Engineering, Biochemical Engineering, Desalination and Water Treatment, Water Science and Technology, Journal of Hazardous Materials. [6] Teaching: Operations Management, Bioprocess Engineering, Fermentation Technology, Transport Principles, Chemical Reactor Theory. [7] Masters/Doctoral supervision: 35 Masters projects (>75% passed with distinction, cum laude or summa cum laude), 15 DEng/PhD projects (updated 2023).
EngD: Chemical Engineering, HD: Higher Education and Training*, Cert: Copy Editing
Bioresource engineering; Biological wastewater treatment; Biotechnology engineering; Green chemistry; Bioprocess engineering
Prof Karabo S. Ntwampe, published 185 academic papers, delivered 49 oral conference presentations (mostly international) and has 14 yrs of full time Higher Education Institution experience (as of 2023). He has held positions as a Head of Department for Biotechnology and Chemical Engineering (two separate departments) including as primary investigator of institutional research groups. An IWA Biofilms technology award was conferred to him in 2018 and received numerous research awards for postgraduate supervision and journal/publications output. Other responsibilities include serving as an institutional senator and participated in faculty level executive committees. He is currently also a certificated copy editor.