Students with Disabilities
Home » UJ Library » Library Services »
Library Research Lab for students with disabilities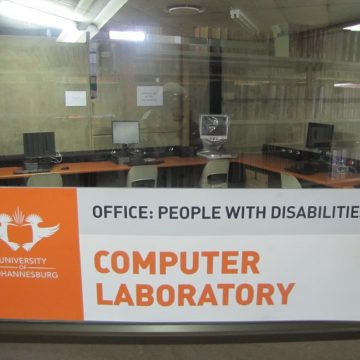 The specially equipped research labs for students with disabilities is available in all UJ campus libraries to support students based on their specialised needs. The Librarian and tutors are available to provide and support PwD students with finding library resources.
Campus
Location
Contact
APK Library
2nd Floor (at the back of the Journal section)
Information Desk
Tel: 011 559 3198
DFC Library
1st Floor Entrance Level
Dorcas Rathaba
Tel: 011 559 6325
SWC Library
Ground Floor in the Learning Commons
Richardson Mzaidume
Tel: 011 559 5082
PwD Office contact:
Eric Mhlanga: Tel: 011 559 3398
Entry procedure
The research lab is designed to support students with disabilities.
Students can access the computer lab with their student cards.
Students who cannot swipe their cards will first have to complete a form at the Disability Unit.
The software programmes installed in the research lab are:
ZoomText: A screen magnifier for Microsoft Windows which can help individuals with visual impairments and is capa​ble of magnifying the screen up to 36 times. It also allows you to choose which part of the screen is magnified.
JAWS: A computer screen reader program for Microsoft Windows that allows blind and visually impaired users to read the screen with a text-to-speech output.
ClaroRead: A highly effective software solution for supporting reading and writing. It can read any screen text out loud and is perfectly integrated with Microsoft Word.
In addition, there are new devices such as:
Merlin Magnifier: The machine is used to enlarge on screen printed documents such as textbooks; it also allows the user to change the colour contrast to best improve visibility.
Eye-Pal reader: It is a book reader, where the user place a document with text on it and the text is then read out loud. The information on the document can also be saved either as an audio or text file for later reading.
The hearing loop system: The system is mainly for people with hearing loss. It omits all unwanted sounds for better hearing.