Home » UJ Library » Learning Support »
Learning commons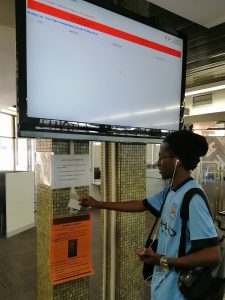 The Learning Commons provides a stimulating, technology enriched learning environment. Library staff provide guidance in the Learning Commons during Library operating hours. Student assistants and the Library Tutors are also available to provide assistance.
A Time-out system is used to control access to the computers – 45 Minutes are allowed for each session. Visit this Guide for more information on the Learning Commons
Information services
Visit Information Services for help with the following:
General information queries and subject related queries.
The information desks in every campus library
Contact details for the Information Librarians – make an appointment for assistance in person or online.
Look at the Subject guides – they provide useful links to subject-specific resources and research tools, as well as contact details for the Faculty / Information Librarians.​​
Find your way around the libraries
To find your way around the campus libraries, click here. You will find maps for subjects and for places (e.g. 24 hour study spaces, training rooms and more)
Internet access
Wi-Fi at UJ: Read this guide on Wi-Fi at UJ.
Zero-rated (free) sites
See UJ Zero-rated (Free) websites for a list of zero-rated data sites for these networks:(MTN, VOdacom, Telkom and Cell C.
Students with Disabilities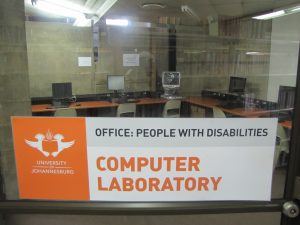 Library Research Lab for students with disabilities
The specially equipped research labs for students with disabilities is available in all UJ campus libraries to support students based on their specialised needs. The Librarian and tutors are available to provide and support PwD students with finding library resources. For more information and library contact details visit this page.
Bindery
Theses and dissertations bound according to university specifications and standards. We bind any books, including Bibles and collector's items.
Phone us for a free quotation (Tel. 011 559 2161) or visit us in the library at Kingsway Campus.
For more information on the Bindery, including tariffs, click here.
Photocopying and Printing
Printing and photocopying are available in all the UJ libraries. It is outsourced to Konica Minolta on all the campuses. Any problems or queries related to photocopying must be directed to Konica Minolta. For more information, go to Photocopying and Printing.
Book a Library Venue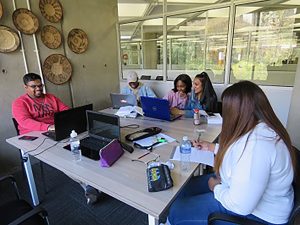 Library venues are available to UJ students and staff in all 4 campus libraries. Should you want to book a Library venue for a meeting, discussion, or tutorial, contact kabelod@uj.ac.za or palesat@uj.ac.za.