Home » UJ Library » Information Resources » Special Collections » Online Exhibitions » Dube's "Backroom Boy" – Andrew Mlangeni »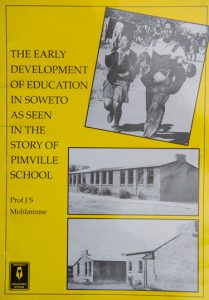 In the 1940's Andrew Mlanageni moved to Johannesburg and stayed with an older brother, Sekila, in Pimville. Andrew was enrolled in the Pimville Government School in 1942 for Standard 5. Afterwards he attended the St Peters Secondary School in Rosettenville, where he passed the Junior Certificate (Grade 10) in 1946.
At St Peters Secondary School, one of his teachers was none other than political activist, Oliver Tambo. Tambo was one of the founders of the ANC Youth League in 1944, of which Andrew Mlangeni became a member.
Mlangeni's political mind was influenced by Oliver Tambo; he eventually also rubbed shoulders with the likes of Ruth First – for him the beginning of a remarkable political journey.
You can read about The early development of education in Soweto as seen in the story of Pimville School by J.S. Mohlamme. Skotaville Publishers, 1990. The book is available for in-library use at the Special Collections of UJ Doornfontein Campus Library. (SBV3 371.97 MOHL).
Read also about Oliver Tambo and the struggle against apartheid, authored in 1987 by E.S. Reddy. Also available at UJ Special collections (SBV3 968.0099 TAMB REDD).