Dube's "Backroom Boy" – Andrew Mlangeni
Home » UJ Library » Information Resources » Special Collections » Online Exhibitions »
The Backroom Boy: Andrew Mlangeni's story written by Mandla Mathebula.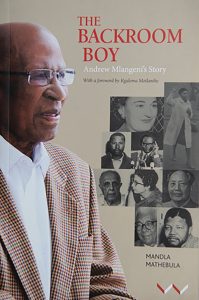 ​Published by Wits University Press in Johannesburg, 2017.
Book available at UJ Library Doornfontein: Special Collections,
for in-library use only.
SBV3 323.168092 MLAN MATH
Backroom Boy is a riveting account of a long life in the struggle for freedom both before and after the attainment of democracy in 1994. The story opens dramatically in China, 1962. Andrew Mlangeni is one of a small, select group, undergoing military training. Mlangeni was selected as one of the first-ever six members who received military training in China before the formation of Umkhonto we Sizwe. He seems to have been chosen because he was a dedicated, intelligent and dependable operative, rather than a leader. Even after his release after 25 years on Robben Island, Mlangeni was not given a senior position in the post-apartheid democratic government …'I was always the backroom boy' says Andrew Mlangeni about himself. While still at school, Andrew Mlangeni joined the Communist Party of South Africa and the ANC Youth League. These organisations shaped his values. Decades of resourceful activism were to lead to his arrest and life sentence in the Rivionia Trial.
Bookseller's description
Thank you to Ms Estelle Bester for giving her permission to use her articles.