Home » UJ Library » Information Resources » Special Collections » Online Exhibitions » Dube's "Backroom Boy" – Andrew Mlangeni »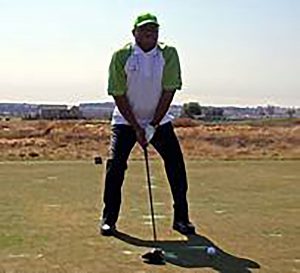 After the death of his father, Andrew Mlangeni moved to the town of Behtlehem in the Free State, with his mother Aletta and siblings. When he attended school in 1937, he realised his schoolmates were moonlighting as golf caddies on the nearby golf course. He joined them and thus began his interesting journey and love for golf.
As a caddy at the golf course, he met Bobby Locke, the then South African- and world golf champion. The Free State-born golf star, Bobby Locke, inspired Andrew and his love and interest for this game was born in Bethlehem.
Andrew's interest in golf proved to be a sound base for networking in his future life. Read the story of how he was able to act as a bogus cleric, while recruiting volunteers for military training for the struggle.
The June and Andrew Mlangeni Foundation is funding his Golf Development Programme.
UJ Library provides access for its members to the Newsbank database of The Rand Daily Mail archives.
You will also find the book on Bobby Locke at the UJ Doornfontein Campus Library, for in-library use only: SBV3 796.352 LOCK NORV