Medical Geology Research Group
Home » Faculties of Science » Departments » Geology » Research »
Department of Geology, University of Johannesburg
Under the leadership of Professor Hassina MOURI, Chair and Founder of the South African Medical Geology Division and Councilor for the International Medical Geology Association (IMGA) 2013-2015.
Historically, the "geological sciences" and "medical sciences" were regarded as completely independent scientific disciplines. However, recent advances in science and technology have proven that the geology of an area can have a direct impact on the regional input of elements and nanoparticles of minerals into the soil, air and water. In turn, these inputs, depending on composition and concentration, may result in beneficial or harmful health effects in humans, animals and plants.
Medical Geology is a complex field of science that requires a multidisciplinary/interdisciplinary approach, bringing together experts from various fields of science, including geology, biology, biochemistry, toxicology and epidemiology.
Although there is a growing development in this field in the world, it is in Africa that the application of research results would be most relevant. However, it is in Africa that the field is least developed. The African continent is characterised by a complex and dynamic geological history, including frequent earthquakes, volcanic activity in tectonically active regions, pervasive dust, and water toxicity due to interaction with the geological environment. All these naturally occurring process and materials can have short or long term impacts on human and animal health. In addition, most of the population in Africa lives close to the land, relying on locally produced food and water, and large tracts of cultivated land are arid, semi-arid, or lack essential trace elements for healthy plant growth.
Therefore, considering the significance of the health problems possibly related to the naturally occurring geological issues on the African continent in general, we strongly believe that it is necessary to develop this discipline. This will broaden our understanding of the diagnostic spectrum, as well as assist in therapy for many geological related health issues, and thus improve the quality of life on the African continent.
Research in this discipline is still in its infancy and focuses mainly on naturally occurring geological process and materials, and their possible health effects (such as some types of cancer, thyroid issues, fluorosis, silicosis) on humans and animals in Africa.
Teaching
Department of Geology, University of Johannesburg, since 2013: Introduction to Medical Geology (1 week Honours students)
Pan-African University, Earth and Life Science Institute, Ibadan, Nigeria, August 2015. Visiting Professor (Postgraduate students)
Conferences/Scientific Sessions organised since 2014​
Presentations at Conferences
EGU –Vienna – April 2018 (with participation of 8 PG students – read all about the team experience here)
Geological Society of America (GSA), South-Central Section – 52nd Annual Meeting, Arkansas, USA, March 2018
International Conference on Women in Science without Borders, March 2018 (Invited speaker)
International Conference on Medical Geology, Moscow, Russia, August 2017 (Plenary speaker)
IGC 35- Cape Town, 2016 (Guest speaker)
ISEH, ISEG & Geoinformatics, Ireland, August 17, 2016 (Guest speaker)
International Conference on Medical Geology, Aviero, Portugal, July 2015
4th international symposium of the Commission of Geosciences for Environmental Management, Itako, Japan, 2013
IGC 34, Brisbane August, 2012
International Academy of Pathology Conference, Cape Town, Oct 2012
International Conference on Medical Geology, Bari, Italy September 2011
Public Lectures
Institute of Geochemistry, Chinese Academy of Science, Guiyang (Host: Prof Tangfu XIAO), January 2016
University of Free State, May 2017
University of Johannesburg, September 2013
University of Kashmir, India, Feb, 2014
Origins Center, Wits, March 2014
Press Releases and Radio Interviews
Radio Channel Africa
SAfm
Radio Islam International
Upcoming events
2nd International Symposium on Medical Geology in Africa (ISMGAf-2)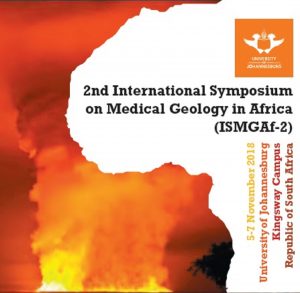 Keep in touch with our research group and learn about the latest developments in the field via our Facebook page, Medical Geology in Africa: a UJ initiative.

The Medical Geology Research Team, including postgraduate students and collaborators (supervisors and co-supervisors), at the 1st Postgraduate Seminar on Medical Geology in Africa, held at UJ in December 2017.