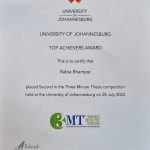 Rabia Bhamjee (Post-graduate Student)
The faculty takes immense pride in announcing that our post-graduate student Rabia Bhamjee has achieved an outstanding second-place position in the esteemed and rigorously contested Three-Minute Thesis (3MT) competition, hosted at the University of Johannesburg on the 28th of July, 2023. This remarkable achievement is a testament to Rabia's exceptional abilities and her dedication to succinctly conveying complex ideas with utmost clarity and impact. Such recognition on a prominent platform is a true reflection of the caliber and dedication that our faculty consistently fosters. We extend our warmest congratulations to Rabia Bhamjee for this remarkable feat.
Tendayi Dzinoreva (Post-graduate Student)
Our Post-graduate student Tendayi Dzinoreva has been conferred with the distinguished Special Undergraduate Research Conference (URC) Scholarship, a prestigious accolade reserved for doctoral candidates of exceptional merit. This recognition stands as a testament to Dzinoreva's exemplary dedication to scholarly pursuits and underscores the significance of their contributions to the realm of academia. Such commendable achievement undoubtedly exemplifies the profound commitment and intellectual prowess that characterize recipients of this esteemed scholarship.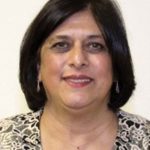 Prof Shireen Motala (finalist for the 2023 HERS-SA HEWL Awards Lifetime Achiever Category)
We extend our warmest congratulations to Professor Shireen Motala, distinguished holder of the South African Research Chairs Initiative (SARChI) for Teaching and Learning in the Faculty of Education. Professor Motala's exceptional contributions have garnered her well-deserved recognition as a finalist for the esteemed 2023 HERS-SA Higher Education and Leadership Awards (HEWL) in the distinguished Lifetime Achiever Category. This nomination stands as a testament to Professor Motala's remarkable accomplishments and enduring impact in the realm of education and leadership.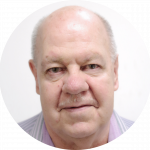 Prof Pierre Du Plessis
Warm and sincere congratulations are extended to Professor Pierre Du Plessis on his remarkable achievement of being bestowed with the esteemed Education Association of South Africa (EASA) Research Medal for the year 2022. This prestigious recognition was bestowed upon him during the EASA 2023 Conference, serving as a testament to his exceptional contributions to the field of education research. Professor Du Plessis' dedication and scholarly accomplishments are indeed commendable and deserving of this esteemed accolade.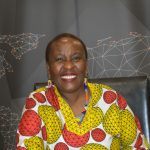 Prof Boitumelo Diale
It is with great pleasure that we announce the nomination of Prof. Tumi Diale as a top 10 finalist in not just one, but two distinguished categories within the HERS-SA Higher Education Leaders Awards. Prof. Diale's exceptional achievements have secured her a place among the finalists in both the "Trailblazer" category and the esteemed "Lifetime Achiever" category. This remarkable recognition underscores her significant impact and sustained contributions to the higher education landscape. Her presence as a finalist in these categories reflects her remarkable journey as a leader and scholar.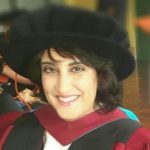 Dr Nazreen Dasoo
Dr Nazreen Dasoo, the current UNESCO/UNTWIN Chair in Values Education-Learning to Live Together, has been elected to Chair the Global Alliance for Values Based Education (GAVE). This international, non-profit organization is based on a profound commitment to values-based education's impact on schools, organizations, and well-being. The GAVE collaboration with the UNESCO/UNITWIN Chair aligns education with broader societal goals and the complementarity between the two entities will further values-based education and the achievement of the SDGs.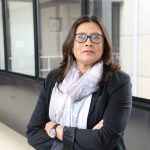 Prof Nadine Petersen (Dean)
It is with distinct pride and recognition that we announce the reappointment of Prof. Nadine Petersen, distinguished Executive Dean of the Faculty of Education, to the National Research Foundation (NRF) board. This prestigious appointment has been extended by the esteemed Honourable Minister for Higher Education, Science, and Technology, Dr. Nzimande, signifying Prof. Petersen's invaluable contributions to the academic and research landscape.
For a second term, commencing in January 2023, Prof. Petersen's dedication and expertise will continue to enrich the NRF board. Her role within this vital institution underscores her enduring commitment to advancing scientific and academic endeavors in alignment with national priorities. Prof. Petersen's reappointment serves as a testament to her standing as a distinguished academic leader, and her ongoing participation promises to shape the future of research and education in the nation.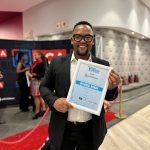 Dr Mthobisi Ndaba (Mail & Guardian 200 Top Achiver)
We invite you to join us in extending heartfelt congratulations to Dr. Mthobisi Ndaba, distinguished Chair of the Postdoctoral Research Fellowship (PDRF), on his exceptional achievement. Dr. Ndaba's remarkable accomplishments have led to his selection as one of the eminent recipients in the esteemed education category of the Mail and Guardian's illustrious awards.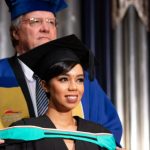 Masters candidate Pranasha Everton
A felicitous commendation is extended to Pranasha Everton, a dedicated candidate pursuing mastery at the University of Johannesburg (UJ), for a meritorious elevation from Post Level 1 to the esteemed position of Senior Education Specialist within the Johannesburg Central District. UJ and the Faculty of Education take profound pride in commemorating this noteworthy advancement, a testament to your commitment and excellence.