Projects and Events
Home » Faculty of Education » Centres » Centre for Neurodiversity @ UJ »
Community Engagement Project with Girls Unlimited: June 24, 2023
The Centre for Neurodiversity @ UJ was the vibrant setting for a significant community engagement project held on June 24, 2023, in partnership with Girls Unlimited, a commendable NGO dedicated to supporting underprivileged girls with remarkable potential.
This collaborative effort focused on a group of Grade 11 and 12 female learners, offering them a valuable opportunity for career assessments. These assessments serve as guiding tools, empowering these young learners to make informed and judicious choices regarding their future career paths.
The initiative underscored a commitment to nurturing and empowering these bright minds, ensuring that they receive the necessary guidance and support to chart a course toward fulfilling and prosperous career trajectories. The partnership between UJ's Centre for Neurodiversity and Girls Unlimited exemplified a shared dedication to fostering opportunities and equipping young women with the tools essential for their personal and professional development.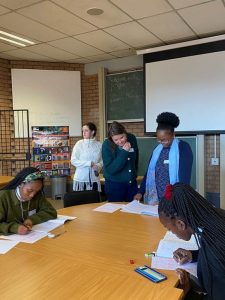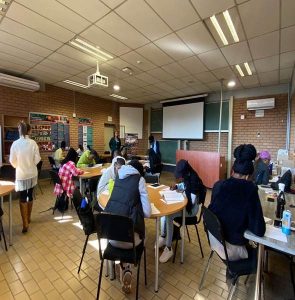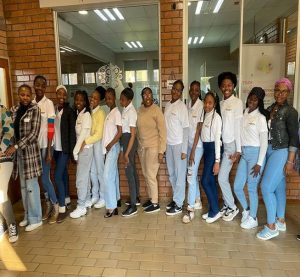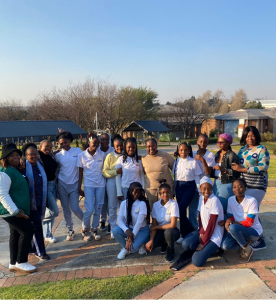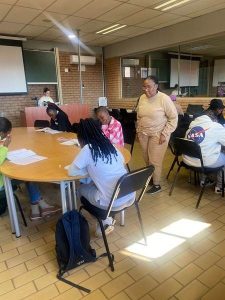 The Irish Disability Minister visits the UJ Centre of Neurodiversity on March 16, 2023.
Anne Rabbitte, the esteemed Irish Minister of State for Disabilities visited the Centre for Nerodiversity @ UJ. Her visit held profound significance, aligning with her extensive work and initiatives in Ireland pertaining to disability advocacy and inclusion.
Ms. Rabbitte's presence marked a pivotal moment, allowing for insightful exchanges and discussions regarding her impactful endeavors in Ireland and their potential applicability or relevance within the context of the department's pursuits. Her visit provided a unique opportunity for knowledge sharing, fostering an enriching dialogue aimed at exploring best practices, innovative approaches, and collaborative possibilities in advancing disability rights and integration efforts.
Read the article by clicking HERE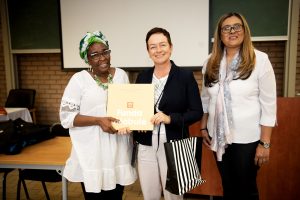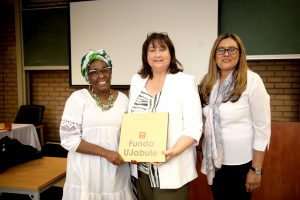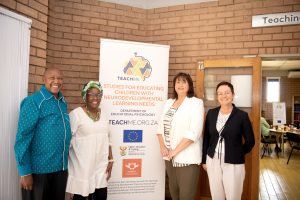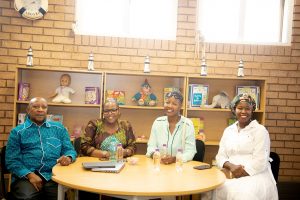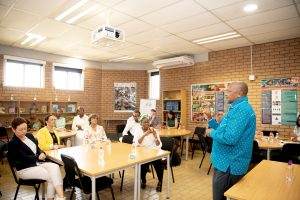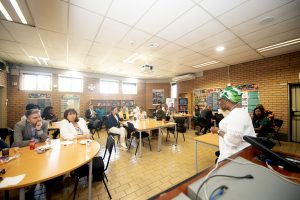 The Faculty of Education hosts the University of Southern California Rossier School of Education on September 20, 2022.
The University of Johannesburg's Faculty of Education played host to a significant event on September 20, 2022, welcoming esteemed delegates from the University of Southern California's Rossier School of Education.
This pivotal gathering served as a platform within the Faculty of Education to exhibit the remarkable endeavors undertaken by both the Department and the Faculty as a whole. Beyond this showcase, the event was marked by insightful discussions aimed at fostering prospective collaborations and exploring future opportunities between the distinguished institutions of USC Rossier and UJ.
The confluence of minds and ideas during this meeting paved the way for potential collaborative ventures, indicative of a shared vision for advancing educational landscapes. Two accompanying images aptly capture the essence of this dynamic engagement, perhaps offering a visual narrative of the collaborative spirit and exchange of expertise that transpired during this noteworthy event.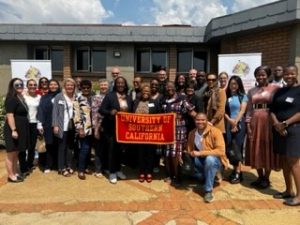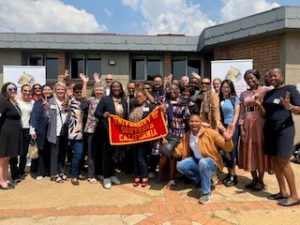 Neurodiversity Colloquium, September 10, 2023
On September 10, 2022, the Center for Neurodiversity at UJ played host to a significant gathering—the Neurodiversity Colloquium.
This event served as a pivotal platform, convening experts, scholars, and advocates deeply engaged in the realm of neurodiversity. The colloquium provided an invaluable space for in-depth discussions, sharing of insights, and exploration of various dimensions surrounding neurodiversity.
Attendees were treated to engaging sessions and illuminating presentations, each contributing to a richer understanding of the diverse perspectives and experiences encapsulated within the realm of neurodiversity. The colloquium, through its discourse and exchanges, aimed to further foster inclusivity, celebrating the unique strengths and contributions of neurodiverse individuals while championing a more inclusive and understanding society.
Centre for Neurodiversity @ UJ Official Launch: September 9, 2022
The official launch of the Center for Neurodiversity at UJ on September 9, 2022, marked a significant milestone in the institution's commitment to fostering inclusivity and embracing neurological diversity.
This momentous occasion brought together academics, advocates, and community members in a celebration that highlighted the center's dedication to promoting understanding and support for neurodiverse individuals.
The launch event featured engaging discussions, insightful presentations, and collaborative dialogues aimed at creating awareness and advocating for inclusivity in all spheres of society. It stood as a testament to the university's unwavering commitment to creating an environment that celebrates the unique strengths and contributions of individuals across the neurodiversity spectrum.