IKM News and Events
Home » College of Business and Economics » Schools » School of Consumer Intelligence and Information Systems (SCiiS) » Information and Knowledge Management »
March 2021
The Department of Information and Knowledge Management in partnership with the UJ Library hosted a public lecture with Imraan Kharwa, Information Security and Privacy Officer.
25 Mar 10:00 – 11:00 | Topic: A new era in information security. Privacy and its impact in a post Covid world.
To watch this public lecture, click here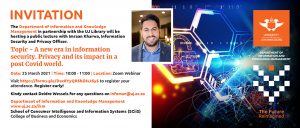 February 2021
On 19 February, Dr Andrea Potgieter from the Department of Information and Knowledge Management participated in a virtual panel conversation focused on Truth or Conspiracy? Navigating the Internet during a Pandemic. The UJ Library hosted this event, in collaboration with the UJ Institute of Intelligent Systems, the School of Consumer Intelligence and Information Systems (College of Business and Economics), and the Africa Centre for Evidence. Dr. Potgieter's focus fell on the differences between misinformation, disinformation, and fake news and she discussed how the public can, and should, verify information before they share content on social media. The most crucial part of Dr. Potgieter's message was the ethical responsibility that each individual carries when they choose to share information online, as this content could be potentially harmful – whether intentional or not.
Full Conversation