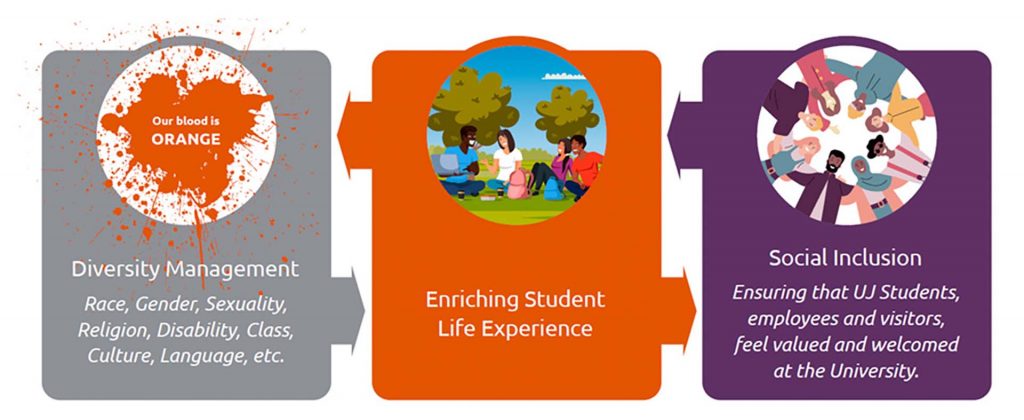 Diversity and inclusion are a critical part of the University of Johannesburg's culture. Through diversity, students and employees are able to learn from the differences and similarities that exist within the community. It is imperative that students and employees feel that they belong and are fully part of our institution. Inclusion ensures wellbeing and encourages engagement.
Diversity & Inclusion
Supporting DHET and USAf projects and significant days/events to promote social cohesion and inclusion, thereby preparing students and staff to play a responsible role as citizens in a democratic society.
Supporting institutional approaches to transformation and related advocacy work.
Conducting communication campaigns and awareness events.
Organising Annual Staff Day, Annual Diversity Week, Dialogue sessions, Colloquiums, Summits etc.
Ensuring curriculum transformation research relating to decoloniality, inclusion and marginalisation in teaching and learning.
Developing, reviewing and steering the implementation of social justice policies.
Diversity and Inclusion Team
Organisational citizenship behaviour and actions emanating from culture survey infused into Transformation Plans of all divisions and faculties;
Change management and interventions for staff and students relating to the UJ Culture and Climate.
Code of Ethics outlining the beliefs and the ways UJ wishes to lead, relate and interact with its employees, students and stakeholders.
Student capacity building – change management workshop for students with a focus on human rights.
Living the UJ Values – focus on the UJ values and expressing them in behaviours through workshops with employees and students.
Cultural Transformation
Past Events Media
International Mother Language Day
2020 Diversity month webinar
Conscious reflections from the Youth of 1976 and the Youth of 2020
Becoming Men: Black Masculinities in a South African Township