How to Book

You may book a writing consultation by
Sending an email to one of the writing centres
Scanning the QR code provided
Walking in at the reception on any of the four campuses.
Phoning the reception of one of the writing centres
When you scan the QR code, you will be taken to the booking system on MS Office 365 where you have to fill in:
The type of writing consultation service or assistance required from the writing centre. Choose one of the following consultation services:
initial consultation;
unpacking assignment instructions and questions;
brainstorming my topic;
planning, organising and writing my first draft;
structuring my writing effectively;
writing my introduction;
expressing my ideas clearly and coherently in writing;
avoiding plagiarism by learning how to reference appropriately;
developing my self-editing and proofreading skills;
developing my critical thinking skills;
reading complex academic texts with comprehension;
group consultation;
personalised consultation.

The full name, student number, year of study, faculty, department
The name of the preferred writing consultant
Preferred date and time of consultation based on the dates and times available on the system.
You then need to
Email your draft to the writing centre email.
Select the preferred mode of consultation (in-person, MS Teams, or emailed)
After the consultation, you are urged to scan the 'rate Our Service' QR code and rate the consultation.
Important note:
Bring all the necessary materials to the consultation: assignment instructions, learner's guide, notes, rough draft, and stationery or notebook/tablet.
Students are encouraged to visit the writing centre at the earliest stage of the assignment and to consult more than once.
Walk-ins are also accepted subject to space availability.
Use the following QR codes and contact details to book a consultation: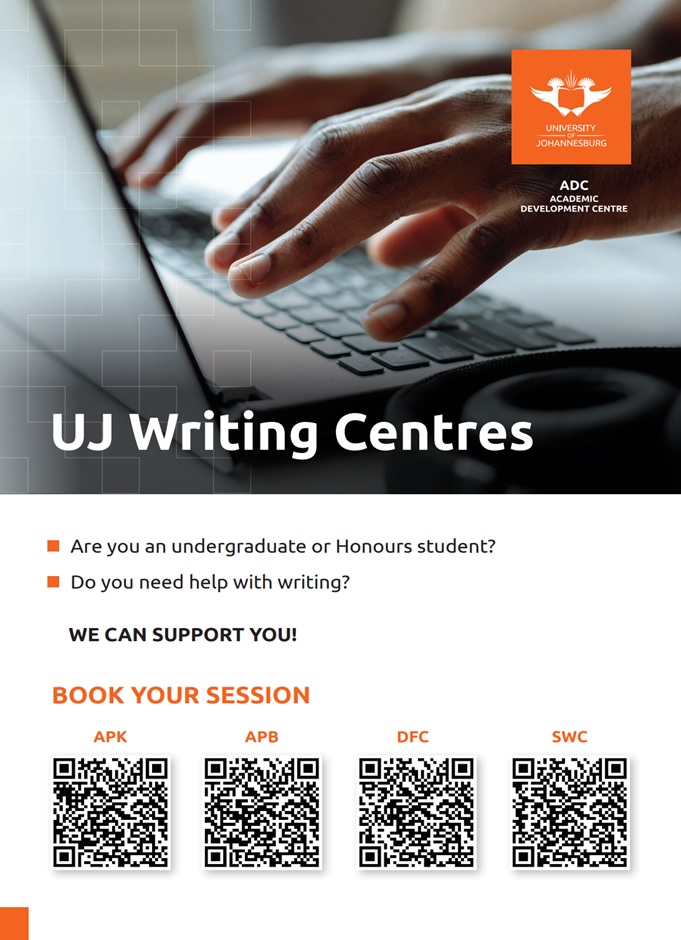 Should you struggle to access the QR codes, please send an email, or call. You can also come to our offices in-person to book an appointment.  These are the details for each campus:
APB:
K Block (above Study Centre)
Tel. 011 559 1646
APK:
D-Ring 3
Tel. 011 559 2568
DFC:
John Orr Building (6th Floor, Room 6611)
Tel. 011 559 6595
SWC:
Adelaide Tambo Building (ACA111)
Tel. 011 559 5652