A critical objective of the University of Johannesburg (UJ) is to educate and equip our students with work experience, as well as provide them with a recognised qualification. Graduate students are encouraged to take advantage of the opportunity to apply for graduate internships from various companies in order to acquire working skills that will prepare them for lifelong work opportunities.
UJ therefore encourages its students to apply for available graduate internships for skills development.
YOU ARE INVITED
DHET and DSdI International Scholarship Information Session
Date: 28 September 2023
Time: 13:00 – 15:00
Venue: Chinua Achebe Auditorium, APK Library, 6th Floor
RSVP: Ismail – ismailb@uj.ac.za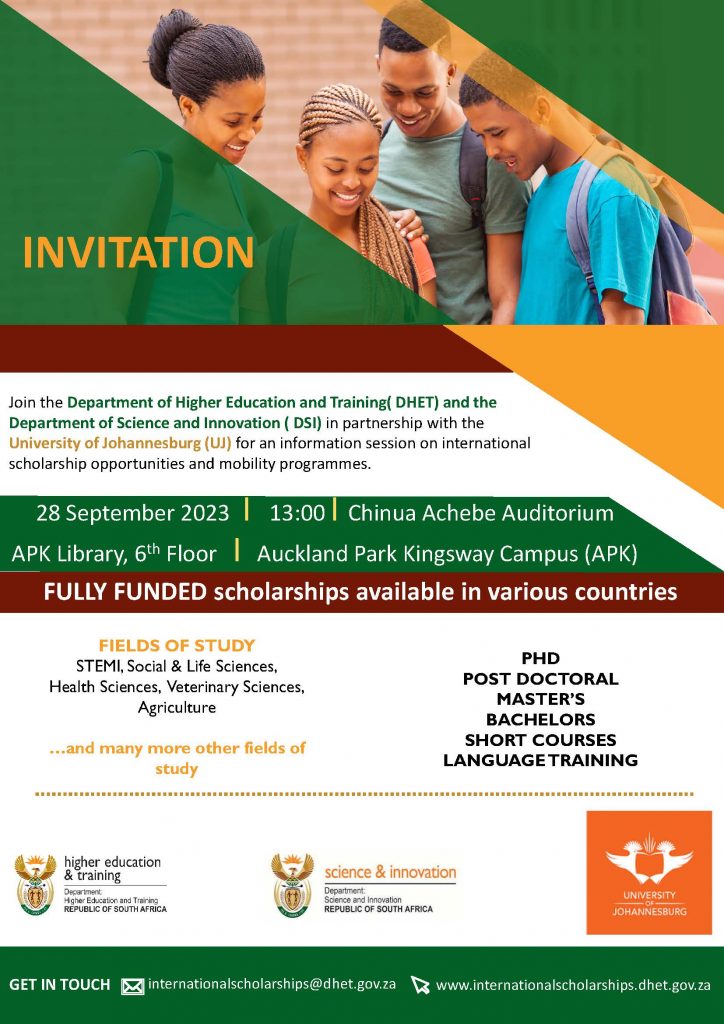 2024 DBREV Masters Scholarship
Would you like to be part of changing, Africa's energy future?
Dr Doug Banks Renewable Energy Vision has a Scholarship Opportunity for Postgraduate Studies.
● Only South African citizens or permanent residents may apply
● Application via the website: www.dougbanks.co.za
● Closing date Midnight on Friday 29 September 2023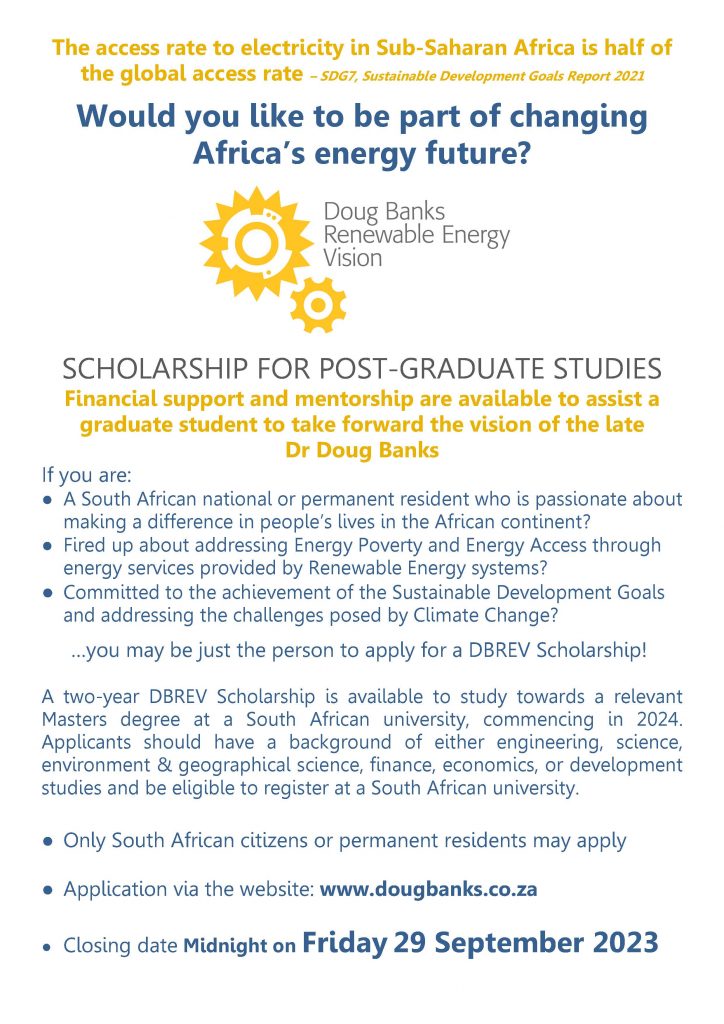 For more information regarding the scholarship, click here
2024 HCI Foundation Bursary Application
The 2024 HCI bursary applications are open and the closing date is 30 September 2023. The bursaries are for Postgraduate Diploma and Honours students.
The link to applications is: https://hcifoundation.devman.co.za/devman/web/bursary/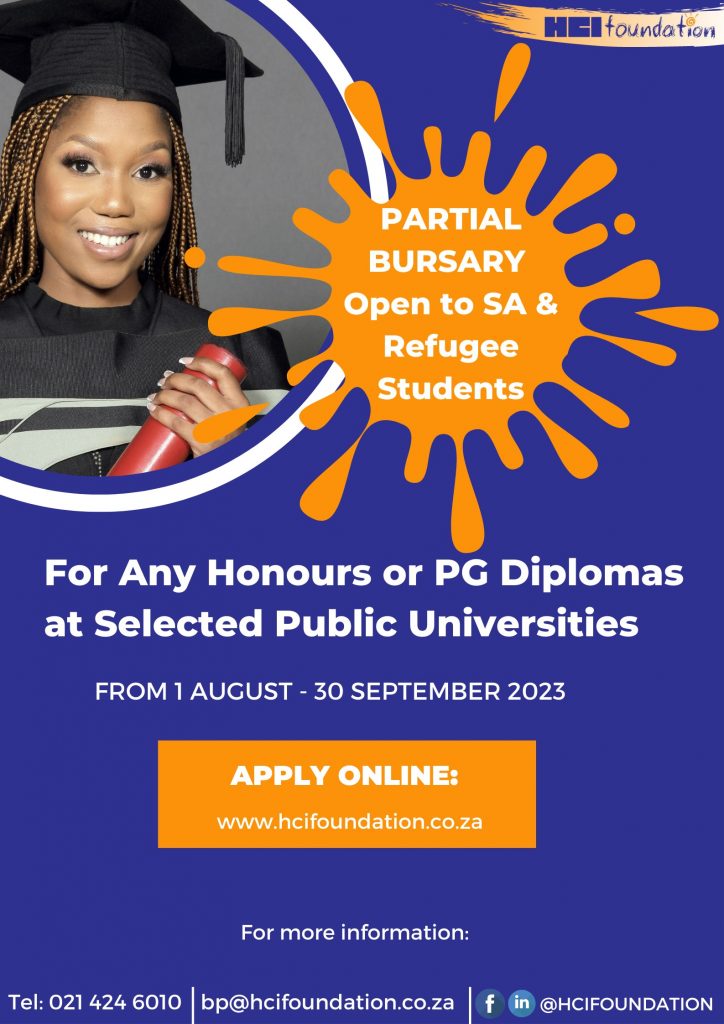 For Frequently Asked Questions for more information, click here
Ernst & Ethel Ericksen Trust bursary applications for Masters and Doctoral are open 2024
The Ernst & Ethel Ericksen Trust was established by Ethel Eriksen in the early 1980s. The trust provides study grants to students doing postgraduate studies and has enabled scholars from all walks of life to fulfill their dreams, and in so doing benefit South Africa.
Requirements:
-The student must be a South African citizen.
-Study must be at a South African university.
-Students must have completed their honours in order to apply.
Application Process:
-Applications are for a study grant for the following academic year.
-All bursaries are granted for one year only. Applicants must reapply for each successive year.
-All applications must be submitted online.
-Once submitted, the application is checked to ensure all required information has been provided. Incomplete applications will not be considered.
-The applications are submitted to the Board of Trustees of the Ernst and Ethel Eriksen Trust.
-Applicants are informed of the status of their application towards the end of December.
-The amount awarded will not exceed R20 000 for the proposed year of study.
-Payment of study grants for those successful applicants is made directly to the university where the applicant has indicated they will be studying.
Closing date: 30 September 2023
Please visit the website www.eriksentrust.co.za for the online application form and relevant information regarding the application.
2024 EWSETA Bursary Opportunity
Applications are open for post graduates to further their studies at the University of Johannesburg (UJ) in 2024
Candidate Criteria
Post graduates intending to study or studying at UJ
B Eng. or M Sc students in related fields of the Energy Sector
To Apply, click here
Closing date: 31 October 2023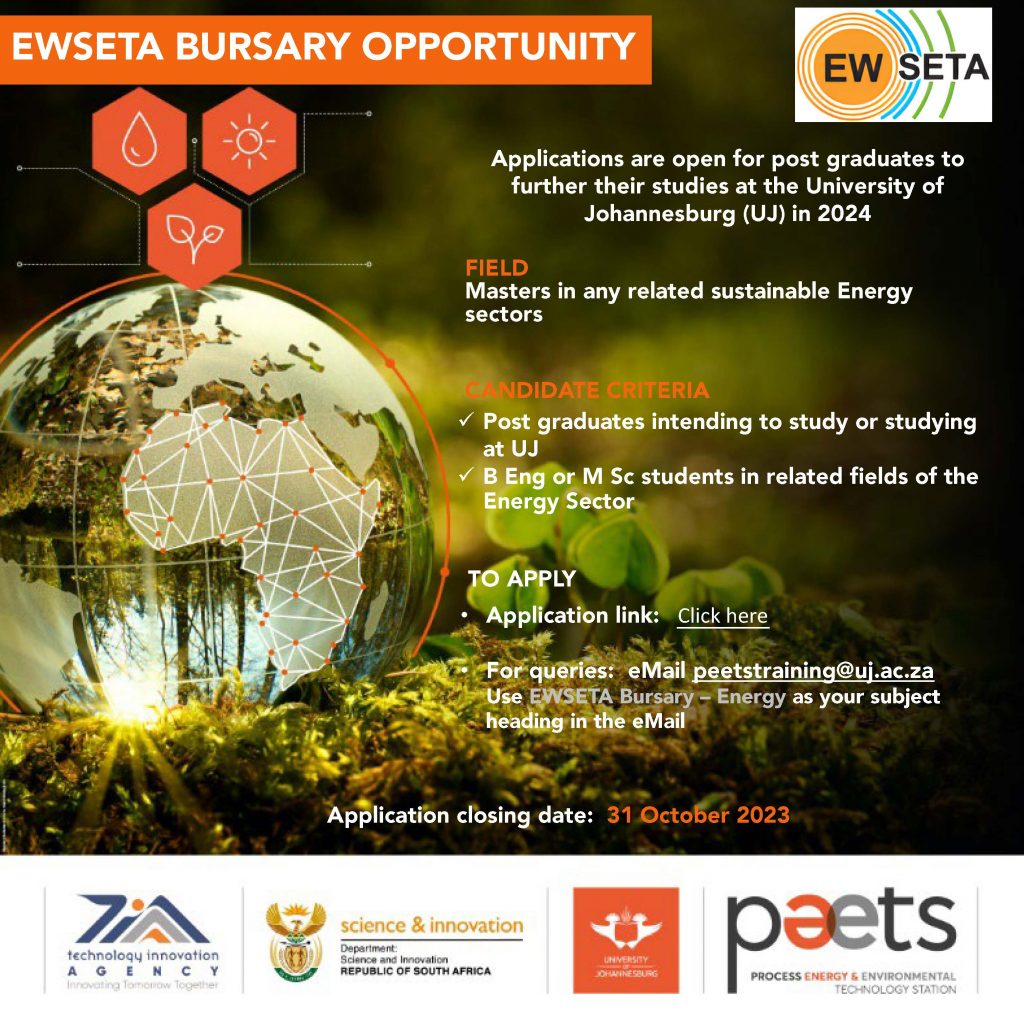 For queries, click here or  Email peetstraining@uj.ac.za and  use EWSETA Bursary – Energy as your subject heading
4IR Work Readiness Programme
4IR is here. Will you be part of it?
The good news is that the one-year Accenture/UJ Work Readiness programme promises excellent options for your future.
This is an opportunity where you will be able to upskill yourself for the 4th Industrial Revolution (4IR) and gain valuable experience to
help you succeed. Open a future filled with new ideas, technologies and strategic thought. Be inspired to make the most of who you are.
The programme will be offered in contact only classes at a UJ Campus.
Apply by filling in the Google form on:  https://l8.nu/qjB6
Closing date for applications: 31 October 2023
For more information regarding the programme, click here