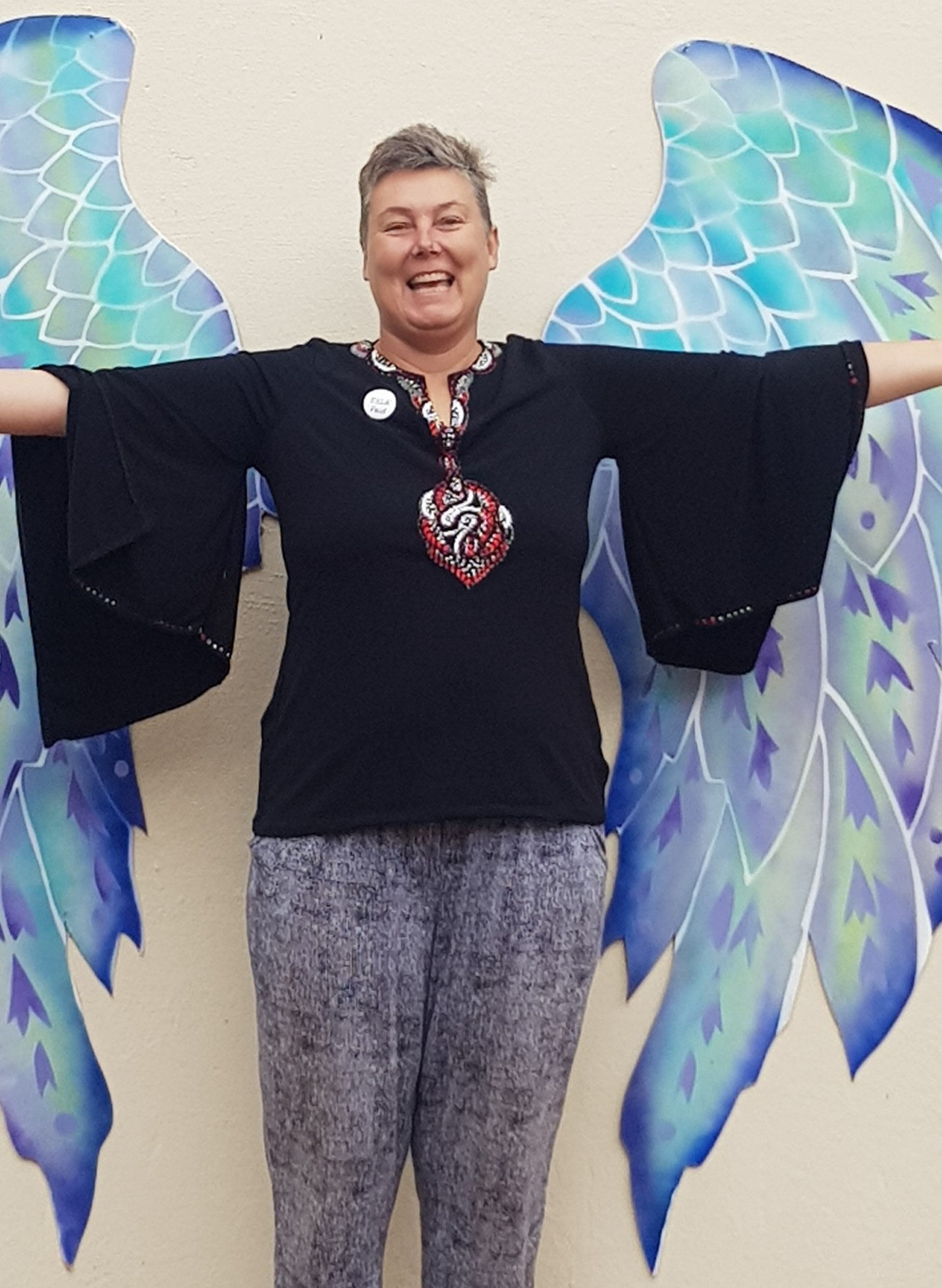 She is a first-generation slow scholar with a Master's in Community Development and over 30 years of experience in South Africa, Malaysia and Ireland.  Lecturing in Community Development for under- and postgraduates, and supervising Honours and Masters research projects. Student's internship projects and theory assessments are also linked to aspects of the UN Sustainable Development Goals, e.g. (1) No Poverty, (2) Zero Hunger, (3) Good Health and Well-being, (5) Gender Equality, (11) Sustainable Cities and Communities, (13) Climate Action, (15) Life On Land, (17) Partnerships for the Goals.
Projects/Research:
Disability Sexual Assistance through Masturbation,
CLIT+ Artistic Activism,
Carnism-Speciesism-Plant-Based-Veganism.
Methodological approaches: Qualitative and Arts-Based.
Theoretical orientations: Queer-Crip-Eco-Fem.
Teaching and Learning Philosophies:
Slow Scholarship,
Pedagogy of Discomfort,
Non-normative and Non-conforming,
Transformative.
Networks:
Council for Sexual Health Professionals (Exco),
African Society for Sexual Health,
Southern African Sexual Health Association (member),
Trans4m Fellow and Communiversity Associates,
Beyond Carnism.
Professional Affiliation:
South African Council for Social Service Professions:  Registered Social Worker to Practice, number 10-14594
Links:
https://scholar.google.co.za/citations?user=kgxxZZcAAAAJ&hl=en
https://orcid.org/0000-0002-6049-268X
http://johannesburg.academia.edu/MarlenedeBeer   *
https://www.instagram.com/clitegator/
https://www.linkedin.com/in/marlenedebeer/?originalSubdomain=za
https://web.facebook.com/Marlene.de.Beer/
https://twitter.com/MarleneBeer
Publications (others available at *):
Paternal masturbation of profoundly disabled son: South African case study. In Chappell, P. and De Beer, M. (Eds.). (2019). Diverse voices of disabled sexualities in the Global South. Cham, Switzerland: Palgrave Macmillan.  https://www.palgrave.com/us/book/9783319788517#    Pp. 189-220
Culture- & Spiritual Sensitive Healthcare Assessment & Intervention. In Brizay, U., Ross, F. and Lutz, R. (Eds.). (2015). Public Health & Health Politics: Social Work of the South, Volume V. Erfurt University, Germany. Pp. 273-299. https://www.academia.edu/21850694/de_Beer_M_2015_Culture_and_Spiritual_Sensitive_Healthcare_Assessment_and_Intervention_In_Brizay_U_Ross_F_and_Lutz_R_Eds_Public_Health_and_Health_Politics_Social_Work_of_the_South_Volume_V_Erfurt_University_Germany
Echoes of a Wounded African Healer. In Huber, T. (Series & Vol. Ed.). (2010). Teaching <~> Learning Indigenous, Intercultural Worldviews: International Perspectives on Social Justice and Human Rights Series: Vol. 3. Storied inquiries in international landscapes: An anthology of educational research. Charlotte, NC: Information Age. Pp. 377-386. https://www.academia.edu/3155013/de_Beer_M_2010_Echoes_of_a_Wounded_African_Healer_In_Tonya_Huber_Series_and_Vol_Ed_Teaching_Learning_Indigenous_Intercultural_Worldviews_International_Perspectives_on_Social_Justice_and_Human_Rights_Series_
Futures beyond social cohesion: Lessons for the 'Classroom'.  In Inayatullah, S., Bussey, M. and Milojević, I. (Eds.). (2006). Neohumanist Educational Futures: Liberating the Pedagogical Intellect. Taipei: Tamkang University Press. Pp. 202-226. https://www.academia.edu/3154124/de_Beer_M_2006_Futures_beyond_Social_Cohesion_Lessons_for_the_Classroom_In_Inayatullah_S_Bussey_M_and_Milojevi%C4%87_I_Neohumanist_Educational_Futures_Liberating_the_Pedagogical_Intellect_Chapter_10_202_226_Taipei_Tamkang_University_Press
Police Officials' Experience and Behaviour in the Implementation of Equality and Elimination of Discriminatory Practices at Station Level. (1999). Masters Dissertation. Johannesburg: University of Johannesburg. https://www.academia.edu/3697900/de_Beer_M_1999_Police_Officials_Experience_and_Behaviour_in_the_Implementation_of_Equality_and_Elimination_of_Discriminatory_Practices_at_Station_Level_Johannesburg_Rand_Afrikaans_University_310_pages_112_835_word_count_
The legacy of discriminatory policing in South Africa and the transformation to equality:  Initiatives and opportunities for the lesbigay community policing task group. (1998). Servamus: Praetor, March: vt10-18. https://www.academia.edu/3195810/de_Beer_M_1998_The_legacy_of_discriminatory_policing_in_South_Africa_and_the_transformation_to_equality_Initiatives_and_opportunities_for_the_lesbigay_community_policing_task_group_Servamus_Praetor_March_vt10_18