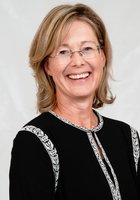 About Prof Catherine Botha
Supervision topics: Aesthetics; philosophy of art; nineteenth and twentieth century continental philosophy, esp, the work of Heidegger and Nietzsche; feminism; philosophy of mind; philosophy of technology, esp the ethics and aesthetics of AI; animal ethics; bioethics.
Full professor in Philosophy at the University of Johannesburg in South Africa, Catherine joined UJ Philosophy in 2009. She holds a PhD in Philosophy from Radboud University Nijmegen in the Netherlands.
Her research is focused mainly on issues in ethics and aesthetics, with a special focus on the philosophy of dance. Her interest is generated as a result of her strong background in the phenomenological tradition and its precursors in the continental tradition (most especially the work of Nietzsche and Heidegger). She also writes and teaches on themes in aesthetics and ethics in the philosophy of technology, with a strong focus on the ethics and aesthetics of artificial intelligence.
Catherine is currently the co-secretary of the South African Centre for Phenomenology, and also a registered ballet teacher of the Royal Academy of Dance. She offers free tuition in classical ballet to UJ students at the UJ Art Academy.
Her interest and expertise in teaching in higher education is also significant. She was the winner of the UJ Vice Chancellor's Award for Best Young Teacher in 2014, and winner of the UJ Vice Chancellor's Distinguished Award for Best Teacher in 2020.
Some selected publications
Botha, C.F. (2021) https://www.ajol.info/index.php/ft/issue/view/20269 "Gender and Humanoid Robots: A Sarkaesthetic Analysis" Filosofia Theoretica Journal of African Philosophy, Culture and Religions 10 (3):119-130.
Botha, C.F. (2021) https://rauli.cbs.dk/index.php/foucault-studies/article/view/6453/6981 "Ars Erotica and Sôphrosunê: Examining Shusterman's Nietzsche" Foucault Studies 31: 13-23
Botha, C.F. (ed.) (2021). African Somaesthetics: Cultures, Feminism, Politics. Brill Studies in Somaesthetics (Volume 3). Amsterdam: Brill
Botha, CF. (2020). "The Dancing Body and the Transmission of Collective Memory in South Africa" in Prickett, S. and Thomas, H. (eds.). Routledge Companion to Dance Studies, London: Routledge, 22-32.
Botha, CF (2018). "Nietzsche on Embodiment: A Proto-somaesthetics?" In Aesthetic Experience and Somaesthetics. Richard Shusterman and Sandor Kremer (eds). Brill Rodopi, p 15-33.
Botha, CF (2017). "On the way home: Heidegger and Marlene van Niekerk's Triomf" in Contemporary Literary Criticism: Triomf by Marlene Van Niekerk Lawrence Trudeau (Ed.) Layman PoupardPublishing, LLC
Botha, CF (2017). Rethinking the Ego/Reconceptualising Philosophy: Shusterman's "Man in Gold. Pragmatist Aesthetics 8 (2): 80-87
Botha, C.F. (2016). "Reconsidering the Will to Power in Heidegger's "Nietzsche" South African Journal of Philosophy 35 (1): 111-120.
Botha, C.F. (2016). DCS Oosthuizen on Husserl's Doctrine of Constitution Husserl Studies 32(2): 131-147
Botha, C.F. (2015). "En-visioning the Dance: The Audience as Mirror" South African Theatre Journal 28 (2): 159-170.
Botha, C.F. (2013). "Dance and/as art: Considering Nietzsche and Badiou" in Bunker, J. Pakes, A. and Rowell, B. (eds). Thinking Through Dance: The Philosophy of Dance Performance and Practices. London: Dance Books.