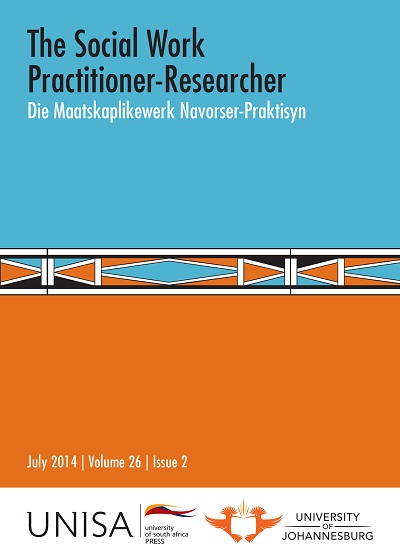 The Social Work Practitioner-Researcher
Die Maatskaplikewerk Navorser-Praktisyn
Editor: Prof Jean Triegaardt, University of Johannesburg
Hosted by the Department of Social Work, University of Johannesburg
Published by Unisa Press
ISSN: 1011-2324
July 2014, Volume 26, Issue 2
Editorial (pages 121-123)
Jean Triegaardt
Challenges to building authentic partnerships: Lessons from Bhambayi, KwaZulu-Natal, South Africa
(pages 124-140)
Tanusha Raniga, Barbara Simpson and Ntokozo Mthembu
In contemporary South Africa, partnerships between service providers in government, non-governmental organisations, the private sector and community based organisations have been identified as a means to strengthen communities and the sustainability of social services. However, the unequal power relations that exists between and within these organisations often leads to fragmentation, duplication, and lack of co-ordination of social services. Using Fowler's (1998) conceptualisation of authentic partnerships, this qualitative phase of a larger study explored the challenges of building authentic partnerships in Bhambayi, a predominantly informal settlement in KwaZulu-Natal, South Africa. Individual interviews and a focus group held with nine service providers revealed that intra-organisational challenges, cross-boundary and inter-organisational relations as well as political influences were obstacles to the development of authentic partnerships. The article suggests that open communication, clarity of roles and mutual trust between service providers is vital.
Training university students for community engagement: Lessons from a knowledge, attitudes and behaviour (KAB) study (pages 141-166)
Mike (M.L.) Weyers and Alida Herbst
This article describes the contents and effect of an accredited short course on socio-economic development that was designed for the project leaders of the Student Rag Community Service (SRCS) of the North-West University's Potchefstroom campus. The SRCS is the largest student-driven non-profit organisation in South Africa and the course was intended to enable its students, which came from diverse academic backgrounds, to become effective leaders of non-curricular community engagement projects. Measurements were done by means of knowledge, attitudes and behaviour (KAB) scales, as well as an adapted Facilitation Assessment Scale (FAS). The results proved that the course had a practical significant effect on the participants' knowledge and a medium to large effect on their attitudes and intended behaviour. These findings make it possible to use the course as a basis for the development of similar courses in community engagement at other tertiary training institutions and even further afield.
Differences in coping strategies and their contribution toward adolescent suicide ideation across race (pages 167-191)
Ancel George
The well-being of adolescents is influenced by their ability to cope with various challenges they experience during this developmental period. Living in a multicultural society, group differences and other socially dividing factors could influence various psychosocial aspects of their lives. The purpose of this article is to explore the contribution of coping strategies across race and how they influence suicide ideation in different race groups. Non-experimental, cross-sectional research was conducted using a criterion group design. A random sample of 600 learners was gathered from ten schools in the Northern Cape Province. Data were collected using the Suicidal Ideation Questionnaire for Adolescents, and COPE Questionnaire. Results indicate that black participants reported higher use of dysfunctional coping strategies as compared to the other race groups, while the coping subscales for white participants explained the highest variance for suicide ideation. Further studies are suggested to explore the underlying reasons for the high levels of dysfunctional coping strategies in some groups in particular.
Adolescents' perceptions of stressors contributing to suicidal behaviour (pages 192-213)
Henriëtte van den Berg, Hester Tancred and Dap Louw
South African adolescents show increased levels of suicidal behaviour. This article explores the perceptions of adolescents at risk of suicide regarding the psychosocial stressors they believe contribute to suicidal behaviour among South African adolescents. This study was conducted on 214 adolescents from the Western Cape Province with a high suicide risk. The group was selected on the basis of their high scores on the Suicidal Ideation Questionnaire. A qualitative content analysis was performed with their responses on a question about the reasons for adolescent suicide. The analysis highlighted risk factors relating to substance abuse, negative emotional experiences, lack of self-esteem, problem-solving ability and hope for the future; negative family environment and conflict in family relationships; peer group and romantic relationships; stressful life events; and socio-economic factors. Guided by the Conservation of Resources (COR) theory suggestions were made for adolescent resource development to counter-act the impact of the various stressors they experience.
The views of professionals on family play therapy in the context of child sexual abuse in South Africa (pages 229-245)
Arina Fourie and Mariette van der Merwe
This article reports on the information gathering and synthesis phase of an intervention research process. The aim was to obtain the views of professionals working in the field of child sexual abuse (CSA) in South Africa on family play therapy. This article outlines the findings based on data gathered from focus groups with professionals. Data were analysed and four themes emerged. The first theme centred on the importance of moving increasingly to systemic approaches in the context of CSA. Theme 2 outlined the views of professionals on inadequate knowledge and skills to engage in family play therapy. The third theme expanded on a family play therapy framework with suggestions that gestalt therapy theory can be valuable. Theme 4 pointed to a structured an individualised approach with a helping process where there is a balance between process goals and problem goals.
Restorative justice with youth sex offenders: Issues for practice (pages 241-259)
Thulane Gxubane
The South African child justice system has adopted the philosophy of restorative justice in the management of child and youth offenders in general as reflected in the preamble of the Child Justice Act 75 of 2008. Whilst restorative justice has been easily applied to less serious youth crimes generally, there seems to be some reservations regarding its appropriateness to dealing with youth sex offenders. This article looks at restorative justice approach within the context of diversion and seeks to highlight practice issues that need to be considered with regard to the application of the aforementioned approach in dealing with youth sex offenders. The article draws from the findings of a Doctoral study that the author conducted which explored this area of social work practice.
The experiences of social work students studying at an open distance learning institution (pages 260-280)
Catherina Schenck, Assim Alpaslan and George Angelopulo
The article describes the experiences of social work students enrolled at the University of South Africa (Unisa) and the implications for Unisa as an Open Distance Learning (ODL) institution. An online Q-methodology survey and qualitative question was administered to 10 000 students enrolled for social work modules at Unisa, of which, 1,346 completed the survey and the qualitative question. This article focuses on the results of the qualitative data which were analysed according to Cresswell's methodology. The themes that emerged indicated the role Unisa, as an ODL institution and the Department of Social Work, play in the lives of the students. The study confirms the importance of interacting and communicating with the students. It was revealed that the course content not only provides knowledge and skills about social work, but facilitates life-changing experiences and the development of the person.
​