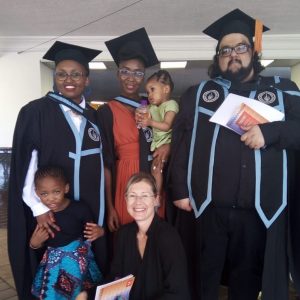 Honours
Student Name
Supervisors
Title Honours
Dyantji, ZU
Ms Zinhle Mncube
Addressing discrimination on the basis of race
Kum, Donatus Tegha
Prof Ben Smart
Epistemic Trust in Vaccines
Ledwaba, Malesela Wilfred
Prof Ben Smart
Scepticism around global pandemics and the causes of the aforesaid: A case of the Covid-19 pandemic
Makhubela, Nosipho
Prof Rafael Winkler
Dreams and the unconscious in Freud. The research explores the extent to which the study of dreams provides Freud with an insight into the working and structure of the unconscious.
Maqutu, L
Prof Ben Smart
Vaccine Hesitancy as a Socio-Political Issue
Marais, Klarise
Prof Veli Mitova
A Defence of Humean Constructivism
Mojela, T
Dr Asheel Singh
Anti-natalism and the good life
Morudi, M
Dr Asheel Singh
What is the appropriate punishment for psychopathic murderers?
Motlhatlhedi, Boitumelo
Ms Devon Bailey & Prof Catherine Botha
African Art and the Construction of Ethnic Identities in South Africa
Ngwane, Sfundo
Prof Rafael Winkler
Heidegger and Gadamer on hermeneutics. The research explores some of the fundamental concepts of hermeneutics and its transformation in the shift from Heidegger to Gadamer.
Ntsane, MP
Ms Zinhle Mncube
Whether lockdowns satisfy the precautionary principle
Punitharajakurukkal, A
Prof Rafael Winkler
Does empathy lie at the basis of human interaction between human beings? What are the limits of empathy?
Saul, PT
Prof Ben Smart & Dr Chad Harris
An analysis of the potential impact of the 4th Industrial Revolution on Mental Health in South Africa
Siobo, Khethani
Prof Veli Mitova
Emotion and rationality
Ukpaka, PU
Prof Hennie Lotter
Reinvention! The Answer or the Question [On post-truth]
Zwane, Gamelihle
Ms Dimpho Maponya & Prof Catherine Botha
The age of Robotic Ubuntu: The intersectionality of Artificial Intelligence and African Philosophy
Zwane, Lebohang E.
Prof Veli Mitova
What are the central epistemic virtues that should characterize an ideal African Statesperson in the 21st century?
Masters
Student Name
Supervisors
Title MA (Coursework, Y1)
Banda, T
Prof Ben Smart & Dr Chad Harris
Can the traditional African belief in Ancestors be justified?
Chibvongodze, B
Dr Chad Harris
What are the possibilities of having a peaceful co-existence between a successful Decolonisation and the Fourth Industrial Revolution on the African continent?
De Rijk, S
Dr Asheel Singh
Human Values: An Obstacle to the Transhumanist Project?
Goeieman, EN
Ms Devon Bailey & Prof Catherine Botha
The Significance of the Ancestors in African Relational Ontology: A Hermeneutical Analysis of Four Major Theorists
Mabapa, T
Dr Chad Harris
Vaccine Hesitancy in Africa
Molokeloa, T
Prof Catherine Botha
Assessing the Role of the Ancestors in an African Intergenerational Environmental Ethics
Rapule, K
Prof Veli Mitova
Epistemic injustice and language
Terem, E
Prof Catherine Botha
Analysing Technological Colonialism in Sub-Saharan Africa: Making a Case for a Communitarian Approach to 4IR
Vorster, E
Prof Ben Smart
Whether machines can reason counterfactually
Student Name
Supervisors
Title MA (Coursework, Y2)
Dladla, Bhekinkosi
Prof Veli Mitova
The Structural Marginalization of African Philosophers in Academia
Kubeka, Nomaswazi
Prof Veli Mitova & Ms Dimpho Maponya
African Indigenous Languages and Epistemic Oppression in African Philosophy
Lebakeng, Gontse J
Prof Alex Broadbent & Dr Asheel Singh
4IR: a bridge or an even bigger gap?
Mackett, Damon
Prof Veli Mitova
Epistemic Injustice in Data Mining: Contracts 4.0
Malele, Ntsumi
Prof Hennie Lotter
'Black Tax': Option or Obligation for Young Professionals
Mlungwana, Yolanda
Dr Asheel Singh
A Self-realization Theory of Meaning in Life
Mlungwana, Yoliswa
Prof Rafael Winkler
The Origin of Violence
Sekumana, Mulalo
Dr Chad Harris & Ms Dimpho Maponya
Frantz Fanon and Structural Violence: Understanding Gender Based Violence in Post Colonial Societies
Student Name
Supervisors
Title MA Research
Azeez, Abiola Joseph
Prof Rafael Winkler & Prof Catherine Botha
Phenomenology and Naturalism
Edout, MR
Prof Ben Smart
An Assessment of the Medical and Pathogenic Implications of Animal Commercialization, and the Holistic Way Forward
Frenkel, J
Prof Ben Smart & Prof Catherine Botha
Philosophy of Mind
Harding, T
Dr Chad Harris
Paradoxes at the Limits of Expression
Nkomotje, Ernest Kabelo
Dr Chad Harris
Metaphysics of Causation
Setlaelo, Sarah
Prof Catherine Botha
Conceptions of Freedom in Contemporary South African Feminisms
PhDs
Student Name
Supervisors
Title PhD
Akpan, Andrew
Prof Veli Mitova
Decolonising Algorithms
Ani, Amara Esther
Dr Asheel Singh & Dr Chad Harris
Contending with Choice in A Transhumanist Future: Is The Normative Conception of Personhood under Threat?
Bailey, Devon
Prof Catherine Botha
The Black African Female Dancer: An Investigation of the Somaesthetic and Sarkaesthetic Dimensions of Identity Formation and Representation.
Dladla, Monalisa
Prof Catherine Botha
Provisional Title: On Technological Essence and Eudaimonia: Finding the Best Way to Live with Technology through Heidegger and Aristotle
du Plessis, Jessica (nee Van Jaarsveld)
Prof Hennie Lotter
The Role of the Environment in Human Flourishing
Dufek, D
Prof Rafael Winkler
TBA
Geyer, Wesley
Prof Ben Smart
An analysis and redefinition of health concepts: Theories of health as defined though a process of evolution
Henley, M
Prof Hennie Lotter
Elephants and Ethics
Kachembere, Taurai
Prof Hennie Lotter
Ubuntu/Hunhu and Justice as Fairness: Towards a Just Society in Zimbabwe.
Madavo, Garikai
Prof Hennie Lotter
Do we have a moral responsibility to trust ex-prisoners?
Maponya, Dimpho
Prof Veli Mitova & Dr Chad Harris
Decolonisation, African Feminism and the Contradiction of African Praxes: Pragmatism as a Mediating Force
Masuleke, Reneilwe
Prof Rafael Winkler & Prof Catherine Botha
TBA
Mbozi, Austin Moonga
Prof Hennie Lotter & Prof Thad Metz
Constructing an African Theory of Global Justice
Ncube, Likhwa
Prof Alex Broadbent & Dr Chad Harris
Evidence based policy in the fourth industrial revolution
Rybko, Caitlin
Prof Veli Mitova
Towards an Epistemology of Google's Knowledge Graphs
Shabangu, Tony
Prof Thad Metz
The Implications of Ubuntu for Prison Reform; A close look at relationships and harmony in and out of prison
Terrblanche-Botha, Aida
Prof Thad Metz
Relations between Time Orientation and Social Self-construal: A South African Perspective
Thrupp, Craig
Prof Ben Smart & Dr Asheel Singh
Toward a Definition of the 'Spirit of the Game': A Philosophical Revaluation of Sport in Light of 4IR
Tobi, A
Prof Veli Mitova
Knowledge in an Online World
van der Merwe, Ragnar
Prof Ben Smart
Towards a unified account of Big History, complexity and truth
Weiffenbach, M
Prof Hennie Lotter
Disentangling the Problem of Animal and Environmental Justice: Land, Poverty, and Denial
Our postgrads are getting published!!!
2019, 2020, 2021 and Forthcoming
Azeez, Abiola & Adeate, Tosin. 2020. Second-wave AI and Afro-Existential Norms. Filosofia Theoretica.
Maponya, Dimpho Takane. 2021. The African woman's plight of reproduction: A philosophical analysis of marriage, procreation and womanhood. Taylor & Francis doi.org/10.1080/10130950.2021.1972598 Mlungwana, Yolanda. Forthcoming. An African Approach to the Meaning of Life. South African Journal of Philosophy.
Mlungwana, Yoliswa. Forthcoming. An African Response to Absurdism. South African Journal of Philosophy.
Ncube, Likhwa. Forthcoming. What is the Nature of Medicine? An Attempt to Decolonise the Language of Medicine. HSRC Press.
Segun, Samuel. 2021 From Machine Ethics to Computational Ethics. AI & Society Journal. 36 (1):263-276
Swanepoel, Danielle M. 2020. The possibility of deliberate norm‑adherence in AI. Ethics and Information Technology. doi.org/10.1007/s10676-020-09535-1
Tobi, Abraham T. 2020 Towards A Plausible Account of Epistemic Decolonisation, Philosophical Papers, 49:2, 253-278, DOI: 10.1080/05568641.2020.1779602
Van Jaarsveldt, Jessica. 2020. Nussbaum's capability approach and African environmental ethics: is the African voice heard? Oxford Development Studies. doi.org/10.1080/13600818.2020.1759037
Bailey, Devon. 2020. Self-knowledge through Dance: Considering the Female Break Dancer in South Africa. In African Somaesthetics: Cultures, Feminisms, Politics (Ed.) C. Botha (Brill) doi.org/10.1163/9789004442962
Anderson, Jane. 2019. Damasio's body-map-based view, Panksepp's affect-centric view, and the evolutionary advantages of consciousness. South African Journal of Philosophy, 38 (4): 419– 432.
Terblanché-Greeff, Aïda C. 2019. Ubuntu and Environmental Ethics: the West can Learn from Africa when Faced with Climate Change. In African Environmental Ethics: A Critical Reader, ed. Chemhuru, M. Switzerland: Springer. doi.org/10.1080/13600818.2020.1759037
Our postgrads are getting prizes!!!
2020
Philosophy Honours student Shené de Rijk received the Faculty Prize, an award presented annually to one student in the Faculty of Humanities, as the top achiever at their graduation ceremony.
---
Philosophy Doctoral student Jessica van Jaarsveld was the 1st Runner-Up at the UJ 3-Minute Thesis (3MT) Competition which requires condensing three-plus years of research into a speech of 180 seconds!
---
Philosophy Doctoral student and assistant lecturer Dimpho Maponya wins Humanities Most Promising Teacher award