The Availability Of Materials For 3D Printing
Home » Engineering & Built Environment » Department of Civil Engineering Technology » 3D Concrete Printing »
Background
For the past two decades, South Africa as a country has witnessed a steady increase in its population; incidental to this growth are challenges and problems beseeching for attention and solution. One of these challenges is the need to provide adequate and affordable housing and accommodation for its teeming population, despite the best efforts of the national, provincial and local level governments, as well as that of private, individuals and institutions, are yet to be fully solved
Some of the reasons associated with the latter are the high cost of construction; and construction materials, which made it nearly impossible for the low and middle-income individuals, who constitute about 80% of the population, to afford their own housing and accommodation needs. Thus, it becomes imperative to evolve the solution to the costliness of building and construction materials and possibly develop viable, cheaper, alternative materials and construction method to meet the goal of the Fourth Industrial Revolution (4IR).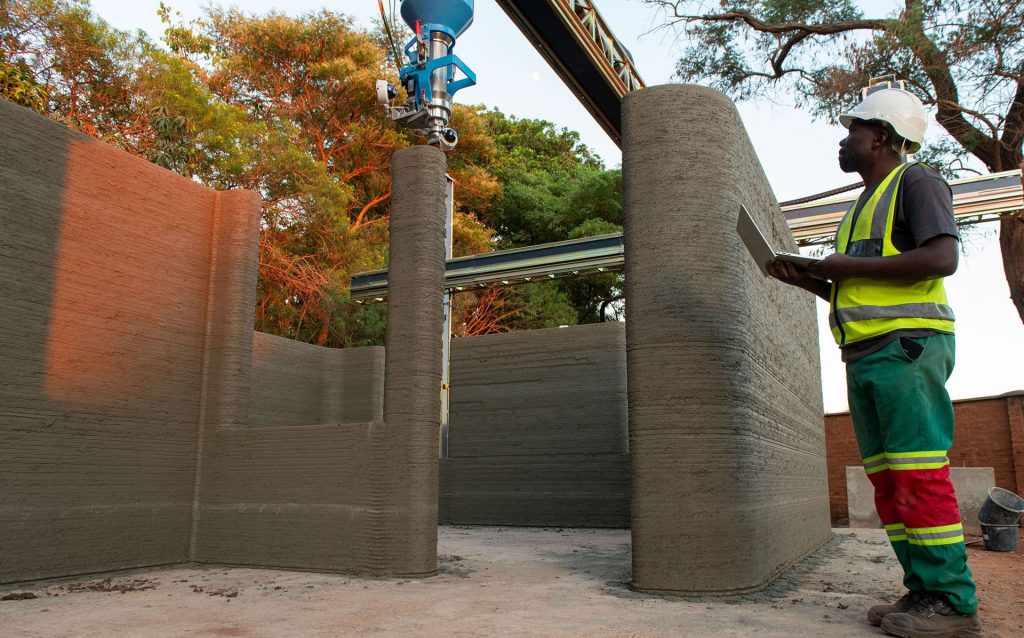 Objectives
The objectives of this report are to:
Identify materials used in 3DCP;
Identify locally available 3DCP materials;
Review of the costs of 3DCP materials; and
Recommend the most appropriate material available for local 3DCP.
Research Questions
The following questions were engaged for resolution:
How and where can 3DCP material be sourced locally?
Are the price of the identified 3DCP material financially viable?
Where can 3DCP material be sourced?
Results
This section will focus on the materials and mix designs that are currently being used for 3DCP applications.
High-performance mix design by Le et al
The mix design has been one of the most commonly used designs for 3DCP and has broadly laid the foundation for 3DCP
Gantry system mix design
This mix design is viable but not limited to gantry-based systems. The mix below was developed by a 3D concrete printer manufacturer called COBOD that manufactures gantry based systems.
Robotic arm mix design
This mix design is viable but not limited to Robotic arm systems. It appears that most robotic arm manufacturers prefer pre-packed materials, this may be due to the fragility of the system.
Waste materials
Although there is limited research on the use of waste material for 3DCP applications, this section will focus on the possible use of waste material for 3DCP.
Recycled glass
Glass can cause bad adverse effects on the environment, and its disposal after usage has been a global issue. The research was conducted to assess the impact of recycled glass on 3DCP material as a substitution fine aggregate in the mix of locally available materials in South Africa for use in 3D printing additive technology.This section deals with the survey of the locally available materials for use in 3D printing additive technology for sustainable human settlements in South Africa.
Conclusion and Recommendations
These materials are fortunately readily available in South Africa. The suppliers identified locally are Builders Warehouse who have a national distribution footprint and Mapei chemical products for constructions who are based in Johannesburg. The only materials that are not available locally are the pre-blended additive mix from Apis Cor. This will only be an option if an Apis Cor robotic arm printer is procured. In conclusion, materials for 3DCP are available locally for 3DCP applications.