Department of Childhood Education
Home » Faculty of Education » Short Learning Programmes »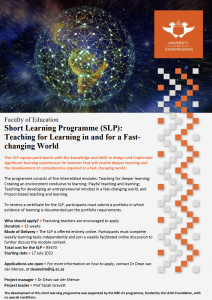 Short Learning Programme (SLP): Teaching for Learning in and for a Fast-changing World
This SLP equips participants with the knowledge and skills to design and implement significant learning experiences for learners that will enable deeper learning and the development of competencies required in a fast-changing world.
Teaching for Learning in and for a Fast-changing World Brochure 2023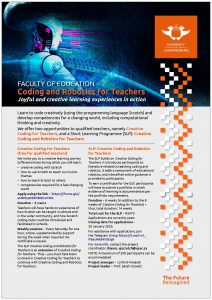 Coding and Robotics for Teachers
Joyful and creative learning experiences in action! Learn to code creatively (using the programming language Scratch) and develop competencies for a changing world, including computational thinking and creativity.
We offer two opportunities to qualified teachers, namely Creative Coding for Teachers, and a Short Learning Programme (SLP): Creative Coding and Robotics for Teachers