Post-graduate students and Postdoctoral fellows
Home » Faculties of Education » Research » Chair Integrated Studies of Learning Language, Mathematics and Science in the Primary School »
Notable alumni
Judy Seligman (PhD 2009: Integrating language and subject content in higher education: A pedagogy for course design,.
Katalin Morgan (PhD) 2011: Textbooks as Mediators in the Intellectual Project of History Education Published in 2013 by Optimus Verlag, Gottingen. Awarded the PhD thesis prize for research by the Centre for Textbook Research, Braunschweig, Germany.
Lamberti (PhD) 2013:  How third-year development studies students construct argument in essays.
Lara Ragpot (EdD Psych) 2012: Student learning in a course on cognitive development in childhood.(Supervision E Henning and J Pillay)
Sonja van der Vyver (Med 2012): An Early Childhood Development Programme in a Rural Settlement Community(Supervision N Petersen and E Henning)
PhD and MEd  graduates (2016-2022)
PhD
Ingrid Mostert, Shafika Isaacs, Lydia Plaatjes, Tionge Saka, Poomoney Govender, Hanrie Bezuidenhout, Francois Naude, Lyn, Kok, Kathleen Fonseca, Gadija Petker.
MEd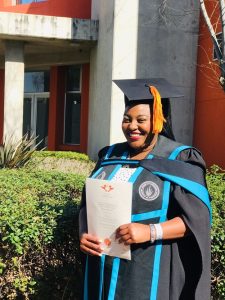 Belinda Tshidumo- graduation 2022 MEd
Refilwe Ntsoane, Fikile Simelane/Radebe, Lufuno Tshidumo,  Emanuel Libusha, Charis Alison, Lerato Ndabezitha,  Dean van der Merwe, Roelien Herholdt, Ingrid Reynecke, Adele van der Berg, Frieda Shingenge, Kelsi Arends, Koketso Ntimbane, Jerry Maseko, Rolandi Mostert
Current postgraduate students
PhD
Mosa Khasu, Fikile Simelane, Hayley van der Haar, Refilwe Ntsoane, Frieda Shingenge, Delia Arends
MEd
Gladys Tshikondela, Catherine Nedambale, Ayanda Dlamini
Postdoctoral Fellows
Current postdoctoral fellows study early mathematical cognition, encounters with robots in dialogue reading books (Dr Hanrie Bezuidenhout) and fNIRS studies of eye-tracking and maths anxiety (Dr Hanrie Bezuidenhout and Dr Candida Barreto).
Previous postdocs were Dr Taiwo Ogunyemi, Prof, Dr Sarah Godsell,  Dr Sonja Brink, Dr. Nic Spaul and Dr. Nicky Roberts.