Honours in Childhood Education
Home » Faculty of Education » Departments » Childhood Education »
The Honours in Childhood Education degree can be completed full-time in one year or part-time over two years. Full-time students complete all three compulsory year 1 modules and the compulsory year 2 modules in one year. Part-time students complete three compulsory modules in year 1 and three compulsory modules in year 2. You can refer to the degree structure below for more information.
Degree structure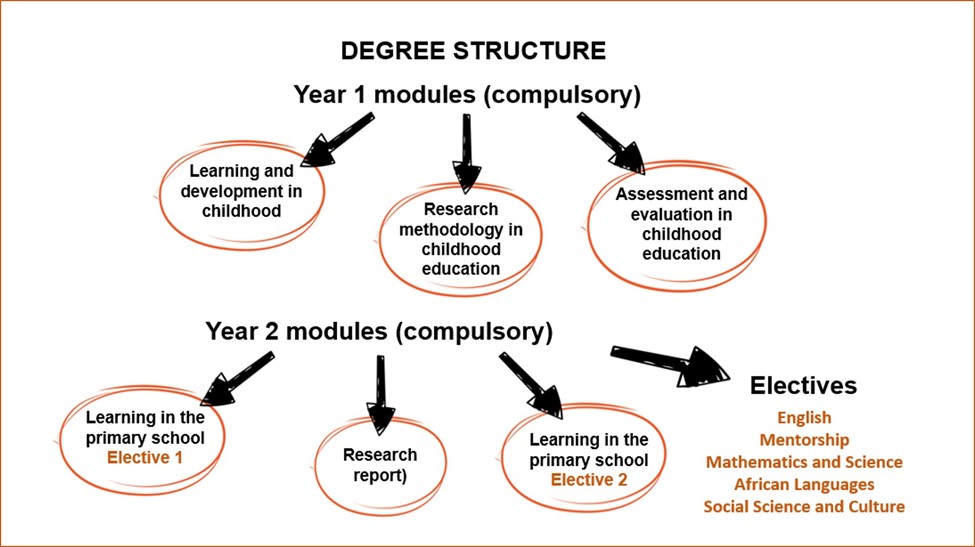 In year 1, there are three compulsory modules:
Learning and development in childhood
Research methodology in childhood education
Assessment and evaluation in childhood education
In year 2, there is one compulsory module:
In year 2, students must also choose two electives from the following learning in the primary school modules:
English
Mentorship
Mathematics and Science
African Languages
Social Science and Culture
You can read more about each module below.
Modules
Compulsory modules
Learning and development in childhood
This module examines how the brain takes in information and what external factors can influence this. These external factors, known as learning barriers, prevent the child from performing optimally. The sooner these barriers are identified, the quicker they can be remediated, allowing the child to close the learning gaps. Educators must learn about these barriers to create classroom environments conducive to learning.
Research methodology in childhood education
This module introduces students to the theory and practice of both qualitative and quantitative research methodologies. The module focuses on how various research designs and approaches can be used to conceptualise independent research projects in the field of childhood education. Students are given the opportunity to engage with countless published studies and case studies to investigate and evaluate the relationship between specific research methodologies, the purpose and form of literature reviews, research ethics, and different approaches to both quantitative and qualitative data analysis.
Research report 
Conducting independent research is a key aspect of postgraduate studies. In the research report module, students are required to complete an independent research study. Students work closely with a supervisor and conceptualise a research project that relates to an aspect of childhood education. The students are guided as they write a detailed literature review, gather and analyse data, and prepare a final research report. Students work within research clusters that focus on specific specialisations in the department. These include Grade R, mathematics and science education, social justice education, language education, and mentorship. A strong area of specialisation is African language teaching, which is supervised by lecturers from the Centre for African Language Teaching (CALT), which is housed in the Department of Childhood Education.
Assessment and evaluation in childhood education
This is a core module in the honours programme. It sits snuggly alongside the Research methodology module and the Research report. In this module, students have opportunities to critically read and discuss educational research and analyse and present assessment and evaluation data. This module enables students to produce an excellent research report and contribute meaningfully to educational research as an emerging consultant and/or scholar.
Electives (students must choose two electives)
Learning in the primary school: English
This module has two parts. First, students engage with an array of children's literature and contemporary scholarship in the field of literary study that focuses on texts for children. The primary focus of this module is representation in children's literature. Throughout this module, students are encouraged to think about the mirrors held up to our learners by way of the literature made available to them in the classroom, as well as in the media they consume on television, in movies and online. The second portion of the module looks at some approaches to teaching reading that have formed a large part of research into reading over the last century. In particular, the module explores the Phonics vs Whole language debate that dominated much of the literature around reading instruction.
Learning in the primary school: Mentorship
In this module, students engage in academic and practical experiences. This module aims to enable postgraduate students to develop a thorough and nuanced understanding of the concept of mentorship and implementation of the mentoring process, as well as to provide effective and inspirational support to both student and novice teachers. This module is designed to guide teachers towards a better understanding of mentoring and all the key role players and structures necessary to become excellent mentors. Each unit contains background and explanatory texts and articles, as well as a variety of tasks and assignments based on the module content. Many activities require students to engage in a scholarship of teaching and learning and consult with fellow students and teachers.
Learning in the primary school: Mathematics and Science
This module aims to develop applied research capacity in the educational fields of Mathematics and Natural Sciences by exposing students to the principles and theories that underpin science concept formation. Constructing assessments and evaluations and exploring the theories of assessment and evaluation with particular emphasis on how they apply to the domains of Mathematics and Natural Science in childhood education is a key focus of the module. Students taking this module engage in recent advancements in Mathematics and Natural Sciences research in childhood education, with particular attention given to how learning and development may be enhanced, assessed or evaluated.
Learning in the primary school: African Languages
This module engages students in a variety of topical issues related to teaching, learning and policies in African languages, including mother tongue instruction, multilingualism, reading instruction, language policies and language-related standardised assessments such as the Early Grade Reading Assessment (EGRA) and Progress in International Reading Literacy Study (PIRLS). The module fosters the understanding of theory and practice in language learning and teaching and language policy implementation. This elective also has a research component wherein students investigate various topics related to teaching and learning in Sesotho and IsiZulu and the program's two African languages.
Learning in the primary school: Social Science and Culture
This module addresses key areas which are especially relevant in the fast-changing world we find ourselves in today. In this interconnected world, learners must be prepared to interact with people of all cultures and communities and to become responsible citizens of a global world. It is important to understand how society works if they are to become active players in it. The module therefore interrogates and debates the role of schools in socialising children into this world, the importance of citizenship education, and how these learnings contribute toward development within a country and beyond. We also address aspects of environmental education and expose students to recent advances in the field of social sciences in primary school, with particular attention given to how learning and development can be assessed or evaluated.
Application process

Need more information?
For more information you can contact:
Prof Andy Carolin | (andyc@uj.ac.za) |Honours Coordinator
Mrs Chantel Velleman | chantelw@uj.ac.za |Faculty Officer