Service learning
Home » Faculties of Education » Departments » Childhood Education »
The DCE Foundation Phase programme infuses service learning and other forms of community engagement throughout the four-year pre-service teacher education programme for the primary school. We use an integrated curriculum design utilising, specifically, the teaching (laboratory) school (Funda UJabule) of the faculty, not just for clinical experience or work integrated learning, but also to optimise the affordances of the school for service learning – thus promoting learning for students in terms of the relationship of the teacher education programme to the teaching school and its location within Soweto. The service learning and community engagement activities are designed to inform and draw on students' practical learning in a school environment and their situational learning, and addresses the notions of integrated and applied knowledge in South Africa's Teacher Education Framework (DoE, 2011).
The service learning and community engagement activities and projects have been deliberately designed to build on each other with students offering service in a school attached to the Faculty before moving their activities into the wider Soweto community. The incremental inclusion of service learning and other forms of community engagement over a four-year period, and the varied nature of the service-learning projects within the programme, extends students' learning from practice, provides opportunities for them to see others as 'experts' who have something to contribute to their education, and maximizes the potential civic and academic outcomes for students. SL also continues to be a pedagogy that staff use to decolonise the curriculum. Examples of service learning and community development initiatives are food gardening projects, the social science gallery walk, Africa Day, anti-bullying campaigns, sports day and story-telling festival.
2022 Sports Day at Funda UJabule
First-year foundation phase students collaborated with UJ cricket team members in a service-learning sports day project with learners and teachers from Funda UJabule primary school.  Service-learning is integrated into the students' academic curriculum for the Teaching Studies module and provides structured time for students to reflect on their experiences before, during and after the service-learning event. Service-learning has been a part of the DCE since its inception in 2010, and we are so pleased to have had a very successful day for the first time in three years. Service-learning is an educational approach where students learn and develop through active participation in thoughtfully organised service experiences that meet community needs and that are coordinated in collaboration with an institution and the community. The event occurred on 13 May 2022, marking the first service-learning project within the Department of Childhood Education (DCE) since 2019 due to the Covid-19 pandemic. Students were placed in groups to organise a sports day for Grade R and one learner from the school. As part of the learning outcomes, the first years designed sporting equipment like wickets, cones, balls, and bats out of recyclable materials. These homemade materials were used by the first years and cricket players to involve the learners in the art of throwing, catching, and batting.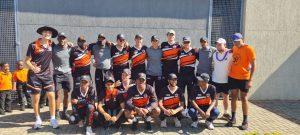 The UJ Cricket team with coach Mr Siyabonga Sibiya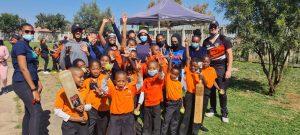 DCE 1st years with learners from Funda UJabule and UJ cricket team members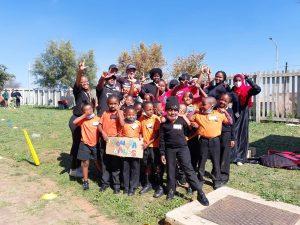 The DCE 1st year group "Untoucha-balls" with learners from Funda UJabule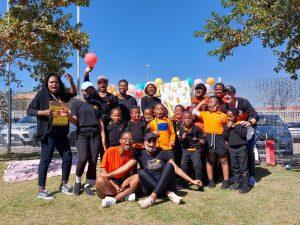 The "Tiger Cubs" group with Funda UJabule learners and a UJ cricket team player